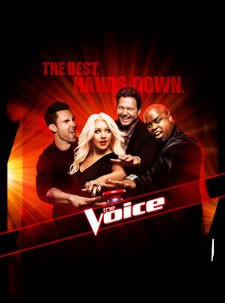 We'll briefly be bidding goodbye to diva Christina Aguilera as well as CeeLo Green and his animal accessories after season three of NBC's
The Voice
. The network has confirmed Aguilera and Green will be departing the show
but
only for one season, and their judging chairs will be temporarily filled by Usher and Shakira.
According to the official announcement, Aguilera will be busy releasing a new album and heading out on tour while Green is in the process of creating a new comedy series based on his life as well as working on his music. Both were unavailable for season four.
While Aguilera and Green will be leaving the series, the network wants to assure The Voice fans that Blake Shelton and Adam Levine will return for season four.
"We are thrilled to welcome Usher and Shakira to The Voice. The addition of these popular iconic artists continues the tradition established by Christina, CeeLo, Adam and Blake," said Robert Greenblatt, Chairman, NBC Entertainment. "Doing two back-to-back cycles of this show requires a tremendous amount of time, and we are happy to accommodate the commitments made by Christina and CeeLo. The participants on our show benefit from our coaches' expertise and their continued success in the music business allows for significant new contributions to the contestants when they return."
"The Voice has always been known for pairing incredible up-and-coming talent with superstar coaches who are top-level current artists," added executive producer Mark Burnett. "Having award-winning artists as coaches means they need to be able to tour. Whether in the red chair or on tour, our coaches have their chairs for life. This is exactly why, after three seasons, we needed to allow them to rotate out so they can get on the road amongst their fans. Meanwhile, we're incredibly excited to have singular artists like Usher and Shakira joining the fold."
"Being a coach on The Voice is a wonderful experience and the relationship amongst us all is like an extended family," said Aguilera. "I am so proud of being part of the show from the beginning, all the work we've done, and proud of what the show stands for as a whole. As I have expressed since day one of the show, that I am a singer and performer first and I am so excited to get back to that love. Since this year NBC and The Voice have decided to tape back-to-back seasons, requiring a full-year commitment, it is important for me to take season four off, allowing me to support my music that my fans have been waiting for — with the release of my new album Lotus on November 13. By pursuing my first passion of music during the break, I am also able to come back and offer even more to my team on The Voice in the future."
"First …thank you NBC for supporting my decision to take this season four hiatus! It says that I'm seen and respected as a complete artist and not just a cast member. I'm highly enthusiastic about focusing my undivided attention on my additional endeavors and interests like my upcoming solo album, new Goodie Mob album, Las Vegas residency 'Loberace,' new memoir, and new NBC comedy," said Green. "It's great to also give a host of other talent the chance to experience what a joy it is to be part of what is truly THE BEST SHOW of them all, THE VOICE! I will return for season five and will be watching season four. NBC is home and as far as Usher and Shakira are concerned – 'mi casa su casa.'"
Source: NBC