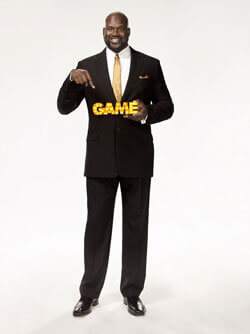 Tony Hawk hosted the inaugural edition of the
Hall of Game Awards
earlier this year, but the 2012 event will have Shaquille O'Neal taking on the hosting job, so says Cartoon Network. The newbie awards show allows viewers to "vote for and honor their favorite sports stars and sports moments of the year." Winners of the first Hall of Game Awards, held February 25, 2011, included Dwight Howard as 'All-Pro Class Clown,' Ryan Sheckler as 'Alti-Dude,' New York Yankees & Boston Red Sox as 'Best Foes Forever,' DeSean Jackson as 'Captain Clutch,' and Terrell Owens as 'Dance Machine.' Milwaukee Bucks' Bango was named 'Most Awesome Mascot,' Drew Brees won the 'He's Got Game' award, and Serena and Venus Williams won as 'Super Siblings.'
According to Cartoon Network, 37 million voted online for their favorite nominees to win the first
Hall of Game Awards
.
"I'm so excited to be hosting the Hall of Game Awards," stated O'Neal. "While I can't guarantee who will win, I can guarantee it will be a blast!"
"Shaquille O'Neal is the ideal sports icon to host the fun at this year's
Hall of Game Awards
show," said Rob Sorcher, chief content officer for Cartoon Network. "With Shaq's help, we will build off of last year's success to deliver an exciting blend of celebrity, sports, music and entertainment."
More on Shaquille O'Neal [Courtesy of Comedy Central]:
Among his many accolades during his illustrious 19-year playing career, O'Neal was chosen as one of the NBA's 50 Greatest Players, ranks fifth all-time in NBA scoring history (28,596 points scored), won the Rookie of the Year award (1993), MVP award (2000) and was named All-NBA 14 times. Additionally, his impressive career includes four NBA Championships—three with the LA Lakers (2000—2002), where he was named NBA Finals MVP for all three championships, and one with the Miami Heat (2006). The 15-time NBA All-Star and three-time NBA All-Star MVP (2000, 2004, 2009) also won two scoring titles (1995, 2000). He appeared in 1,207 regular season games, averaging 23.7 points, 10.9 rebounds, 2.5 assists and 2.3 blocks in 34.7 minutes per contest throughout his career, which included playing for the Orlando Magic, LA Lakers, Miami Heat, Phoenix Suns, Cleveland Cavaliers and Boston Celtics.
Source: Comedy Central – November 3, 2011