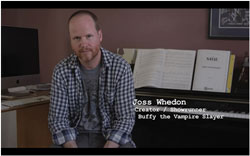 Want to take a sneak peek behind the scenes at what really happens on the set of TV shows and what goes on in the writers' room? The new documentary Showrunners: A Documentary Film will allow you to do just that.

Joss Whedon (BUFFY, ANGEL, FIREFLY), JJ Abrams (LOST, ALIAS, FRINGE), Bill Prady (THE BIG BANG THEORY), Hart Hanson (BONES), Damon Lindelof (LOST), Kurt Sutter (SONS OF ANARCHY), Stephen S DeKnight (SPARTACUS), Mike Kelley (REVENGE) and Jonathan Nolan (PERSON OF INTEREST) are among the showrunners featured in the documentary directed by Des Doyle and currently seeking funding via a just-launched Kickstarter campaign.

The Details:

Showrunners is the first ever feature length documentary to explore the fascinating world of US television showrunners and the creative forces aligned around them. These people are responsible for creating, writing and overseeing every element of production on one of the United State's biggest exports – television drama and comedy series. The film takes audiences behind the scenes of the chaotic world of the showrunner to reveal the incredible amount of work that goes into making sure their favorite TV series airs on time as well as the challenges that showrunners must overcome to ensure a new series makes it onto the schedules at all.

Watch the video:


Follow Us On: