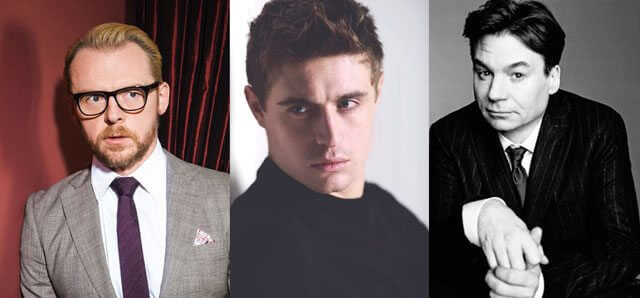 Star Trek's Simon Pegg, Max Irons (The White Queen), Austin Powers' Mike Myers, and Dexter Fletcher (Lock, Stock and Two Smoking Barrels) have joined the cast of the dramatic movie Terminal written and directed by Vaughn Stein. The newly announced cast members join Margot Robbie (Suicide Squad) in the noir thriller which will be shooting in Hungary. The Highland Film Group is handling international sales and broke the news about the additional cast members.
Terminal will be produced by Robbie, David Barron, Molly Hassell, Arianne Fraser, Tom Ackerley, Josey McNamara, and Sophia Kerr. John Jencks, D. Todd Shepherd, Joe Simpson, George Waud, Shelley Madison, Charles Auty, Simon Williams, Delphine Perrier and Henry Winterstern are executive producing.
Simon Pegg's credits also include the Mission Impossible franchise, Shaun of the Dead, Hot Fuzz, The World's End, Kill Me Three Times, and Hector and the Search for Happiness. Max Irons, the son of actor Jeremy Irons, has had starring roles in The Host, Red Riding Hood, and Woman in Gold. Myers' lengthy list of credits includes Saturday Night Live, the Shrek films, View From the Top, 54, and Mystery, Alaska.
The Plot: Terminal tells the story of two hit-men (Fletcher and Irons) as they embark on a borderline suicide mission for a mysterious employer and a high paycheck. Along the way, the unlikely pair come across a dynamic woman named Annie, (Robbie) that may be more involved than they had originally suspected.