Sony Pictures' presentation at the 2015 CinemaCon in Vegas kicked off with President of Worldwide Distribution Rory Bruer talking about the company's vision while also tossing out a few jokes about the troubles caused by hackers in 2014. Bruer and Sony Pictures Chairman Tom Rothman both thanked the exhibitors for sticking by Sony throughout the year, and especially during The Interview controversy. And in a recurring theme, both stressed the importance of getting Sony's films before movie fans on big screens as they're meant to be seen.
The studio bucked the trend of bringing in actors to talk about the upcoming theatrical releases and instead had directors of their upcoming slate of films come in and speak to the National Association of Theater Owners (NATO) members during the Sony presentation on April 22nd at the Coliseum at Caesars Palace. Here's a recap of Sony's presentation:
The Walk: Robert Zemeckis was the first director to be introduced, on hand to discuss The Walk starring Joseph Gordon-Levitt and show off a new trailer. Zemeckis said it was great to be back at CinemaCon, telling the theater owners that he prefers to see movies on a really, really big screen – the bigger, the better. He said he was passionate about directing The Walk which is based on the true story of Philippe Petit's 1974 illegal high-wire walk between New York's Twin Towers. Zemeckis also stressed that he wants the film to be seen in IMAX 3D in order to get the full effect of the story. The new footage showcased Gordon-Levitt and included some shots that might be difficult to watch for those who are afraid of heights.
Pixels: Introducing director Chris Columbus, Bruer said Pixels is one of the most streamed trailers of all time. Columbus said Adam Sandler told him to look at the script and he immediately fell in love with it, saying it's a big summer movie that's not a sequel, doesn't feature anyone wearing spandex, and isn't based on a board game. He also said that he loved having the chance to work with two incredible casts. One featuring Sandler, Peter Dinklage, and Josh Gad, and the other made up of classic video game characters including Pac Man and Donkey Kong. "Each video game character could have a movie on their own," joked Columbus before showing never-before-seen footage that featured Donkey Kong, much more of Dinklage's character, and highlighted the humor.
Billy Lynn's Long Halftime Walk: Ang Lee just started production on the film in Georgia and wasn't able to make it to Vegas. Instead, he sent along a video message with details on the film starring Vin Diesel, Steve Martin, Chris Tucker, Garrett Hedlund, and Kristen Stewart. Lee said he's redefining what is possible in filmmaking with Billy Lynn's, shooting on Sony cameras in 3D at 120 frames per second. He's the first to do it and believes the future of filmmaking is exciting and will provide audiences with a new type of cinematic experience. (no footage was screened)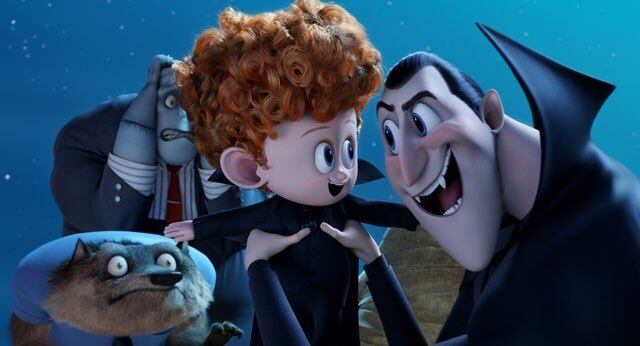 Hotel Transylvania 2: Genndy Tartakovsky kicked off his portion of the presentation by saying how honored he was to be sharing the stage with legendary filmmakers. He said it took him back to the '70s when he first came to America and saw his first movie in a theater, Jungle Book. That film transported him and made him fall in love with movies, and it's what made him want to become an animator and director. And when Hotel Transylvania premiered in theaters, he sat in the audience and listened to the reactions, happy that all generations were laughing at the same jokes. He's excited to return to Hotel Transylvania with this sequel, and said new cast member Keegan-Michael Key is hilarious. Tartakovsky also admitted to being intimated by having Mel Brooks as part of the sequel's cast and was nervous to direct him. The film's about 12 weeks from being finished and the footage screened, much of which is in the previously released trailer, was not the final product.
Goosebumps: Producer Neal Moritz and director Rob Letterman represented Goosebumps at CinemaCon, with Moritz using part of their time to thank the theater owners for their support of Furious 7, and he made the crowd repeat his new favorite word, "billion". Turning his attention to Goosebumps, Moritz said he's proud of the film and believes it will launch the studio's next big franchise. Letterman, who was a newbie to CinemaCon, said he was inspired by watching Amblin films as a kid and stole some ideas from those films to put into Goosebumps. A work-in-progress clip with the abominable snowman and the Wolfman was screened and it was met with enthusiastic applause.
The following films screened new trailers without any introductions:
– Aloha with Bradley Cooper, Emma Stone, and Rachel McAdams
– Ricki and the Flash starring Meryl Streep
– The Perfect Guy with Michael Ealy and Sanaa Lathan
– The 5th Wave with Chloe Grace Moretz and Maggie Siff
– Concussion starring Will Smith
– X-Mas with Seth Rogen, Joseph Gordon-Levitt, and Anthony Mackie
– Money Monster starring George Clooney, Julia Roberts, and Jack O'Connell
Sony played a promo reel featuring films heading to theaters in the future:
– Ghostbusters
– Angry Birds
– Smurfs
– Underworld 5
– Resident Evil 6
– Equalizer 2
And the presentation wrapped up with a new pivotal scene from Spectre which contained a huge spoiler that we won't reveal. Director Sam Mendes introduced it saying he's halfway through the shoot and hopes it will match or exceed Skyfall's massive box office take.
-By Rebecca Murray
Follow Us On: