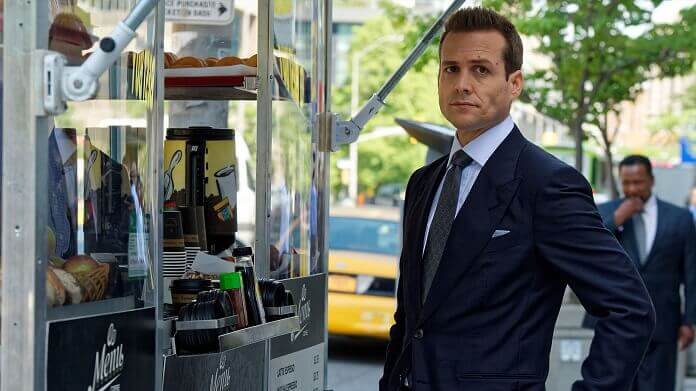 USA Network's set a January 23, 2019 premiere date for the second half of Suits season eight. Suits will be returning to USA Network's primetime lineup with six new episodes airing on Wednesdays at 10pm ET/PT.
The cast of season eight includes Gabriel Macht as Harvey Specter, Rick Hoffman as Louis Litt, Sarah Rafferty as Donna Paulsen, Amanda Schull as Katrina Bennett, Dulé Hill as Alex Williams, and Katherine Heigl as Samantha Wheeler.
Suits was created by Aaron Korsh. Korsh executive produces along with David Bartis, Doug Liman, Gene Klein, Genevieve Sparling, Ethan Drogin, Christopher Misiano, and Mark Winemaker.
The Suits Plot:
"Suits centers on a fast-paced Manhattan corporate law firm led by legendary lawyer Harvey Specter (Macht), his intelligent but delicate partner, Louis Litt (Rick Hoffman), and secretary-turned-COO Donna Paulsen (Rafferty). After surviving leadership turmoil and the loss of key partners, the trio continues to tackle top corporate cases with the support of the formidable Alex Williams (Hill) and the undeniably talented Katrina Bennett (Schull). Muscling her way into the firm, powerhouse attorney Samantha Wheeler (Heigl) joins the ranks of Zane Specter Litt and challenges the status quo. Together, these top minds must rely on their knowledge, wit, and intuition to keep their clients at bay and their firm afloat.
In the first part of the season, with Robert Zane (Wendell Pierce) as new managing partner of the firm, Harvey, Louis, and Donna are forced to navigate the shaken dynamic while still standing their ground. Katrina works hard to prove herself and is eventually promoted to senior partner, and Alex and Samantha go head-to-head for name partner. Their battle just about tears the firm apart as Harvey and Robert pick sides. In a last-ditch effort to unify the team, Louis takes over as managing partner at Donna's suggestion, and both Alex and Samantha get their name on the wall."