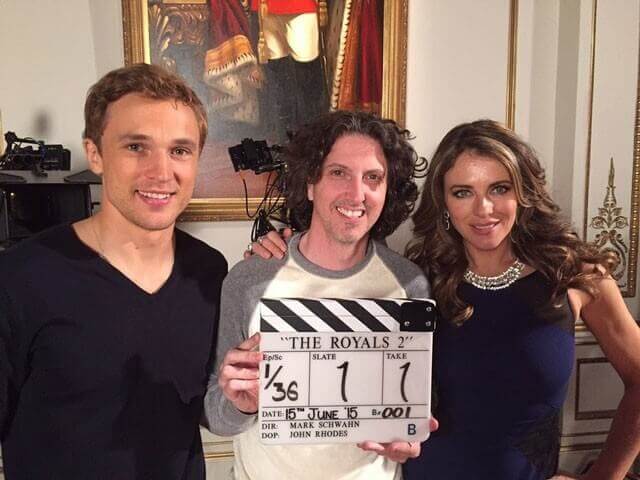 Filming is officially underway on E!'s The Royals and they're showing off the first photo to prove it. The network's just released a photo from the set showing series creator Mark Schwahn posing with stars Elizabeth Hurley and William Moseley on the set on day one of season two. Although she's not pictured in this first photos, Alexandra Park is also back in a starring role as Princess Eleanor.
Production is currently taking place in London with E! aiming for a November 2015 season two premiere. Episode one is written and directed by Schwahn who, along with showing off the new picture, released this tidbit on season two: "Mystery, drama, scandal, sex, mayhem, murder and ridiculously pretty people. And also me. The Royals. Fully committed. Season Two begins today."
"The storylines for Season 2 of The Royals are mind blowing. So excited to be back on set," added Hurley.
Season one's finale was watched by 1.1 million viewers (in the 18-49 age group) and E! reports the show was the "top new scripted series in cable for the year (excluding spin-offs)."
The Plot of Season One:
Behind the luxurious gates of the Royal family lies more scandal than one can imagine. Helena (Hurley), the polished, poised, and fierce Queen, poses to the public that her family is one of class and grace. Her sole daughter, Eleanor (Park), however, tries her best to keep the Queen on her toes as her rebellious nature puts the family's reputation on the brink of crumbling as the tabloids document her unprincess-like behavior which includes sex, drugs, and hung-over helicopter rides. While secretly longing for a more meaningful existence in her limitless world, the heiress still parties like only a princess can. King Simon (Vincent Regan), at the helm of the monarchy, works to keep his family afloat, but when tainted politics and dangerous relationships are involved, chaos and turmoil threaten to uproot the family tree. Meanwhile, Eleanor¹s twin brother, Prince Liam (Moseley), is a playboy prince with the keys to the kingdom. Literally. He takes full advantage of being one of the most sought after bachelors on the planet without the scrutiny his older brother Robert, the beloved heir to the throne, endures. All of that changes, however when Robert tragically passes away and Liam, the spare, becomes heir. As a member of the Royal family, destiny chooses you. You do not choose your destiny.
Keeping the family out of the limelight is in the hands of the Royals' entrusted security team. Liam's hunger for a different life keeps his bodyguard and confidant Marcus (Ukweli Roach) hard at work especially when he runs off with his best mate Ashok (Manpreet Bachu). Jasper (Tom Austen) is Princess Eleanor's new bodyguard who is delegated to protect her not only from harm outside the castle walls, but also from the unruly Princess herself. Jasper's charming and demure nature juxtaposed against his brooding good-looks hint that there is something far more calculating going on behind his baby blue eyes. As head of the security for the Royals, Ted (Oliver Milburn) is committed to keeping his own personal life discrete, but when Prince Liam falls for his daughter Ophelia (Merritt Patterson) his private and professional life start to merge.
To make matters more complicated, Liam's socialite ex-girlfriend Gemma (Sophie Colquhoun) returns upon news of Prince Robert's untimely death, and is relentless in her attempt to win Liam back from Ophelia. As the heiress of a diamond cartel, Gemma is refined, manipulative, and very clear about her desire to be on Liam's arm when he is crowned King. Elsewhere in the palace, Cyrus (Jake Maskall), brother of King Simon, is lurking for a chance to steal the throne by doing anything, in his limited power, to take down the heirs one-by-one. While his power is restricted, his lack of a moral compass is not, even when it comes to his sexuality, jealousy and enlisting his dimwitted daughters Maribel (Hatty Preston) and Penelope (Lydia Rose Bewley) to do his bidding. Although born into fame, money, and power, only one can be King.
All is fair in love and royalty.
Follow Us On: