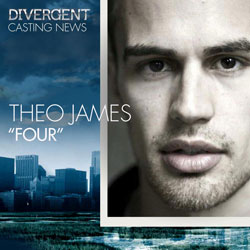 Summit Entertainment confirmed Theo James has landed the role of 'Four' in the film version of Veronica Roth's bestselling book, Divergent. And commenting on James' casting, Roth had this to say: "Recently I saw Theo James' screen test with Shailene Woodley, and I was sure within seconds: th…is was 'Four,' no question. Theo is able to capture 'Four's' authority and strength, as well as his depth and sensitivity. He is a perfect match for Shailene's incredibly strong presence as Tris. I'm thrilled!"
Divergent is the first book of a trilogy. Book two, Insurgent, was released on May 1, 2012. Book three will hit stores this October. James joins a cast which includes Shailene Woodley (The Descendants) as Tris, Maggie Q as Tori, Zoe Kravitz as Christina, Ansel Elgort as Caleb, and Jai Courtney (A Good Day to Die Hard) as Eric. At 28, James is 10 years older than Four is in the book. Woodley, at 21, is five years older than Tris is Roth's first book of the series.
The Plot: Divergent is a thrilling adventure set in a future world where people are divided into distinct factions based on their personalities, Tris Prior is warned she is Divergent and will never fit into any one group. When she discovers a conspiracy to destroy all Divergents, she must find out what makes being Divergent so dangerous before it's too late. A man with a mysterious past, Four is Tris's intense yet charismatic instructor and one of the leaders of the Dauntless faction.