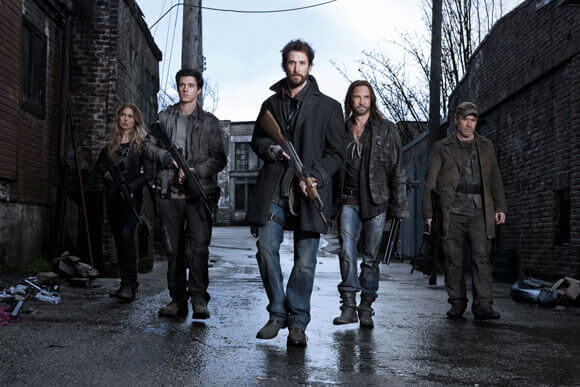 TNT has just given the go-ahead to a third season of the alien invasion drama,
Falling Skies
.
Falling Skies
will return in 2013 with 10 brand new episodes.
Season two of the series from DreamWorks Television and executive producer Steven Spielberg is this summer's top basic cable drama in the adults 18-49 demographic.
Falling Skies
is averaging 5.9 million viewers.
"
Falling Skies
is television storytelling at its very best, a powerful drama that's told on both an epic scale and on a deeply personal level," stated Michael Wright, president, head of programming for TNT, TBS and Turner Classic Movies (TCM). "With all the memorable and surprising moments taking place during the second season of
Falling Skies
, we can't wait to see what DreamWorks Television and
Falling Skies
' terrific production team and cast members have in store for season three."
The series stars Noah Wyle, Moon Bloodgood, Will Patton, Drew Roy, Connor Jessup, Maxim Knight, Seychelle Gabriel, Mpho Koaho, Peter Shinkoda, Colin Cunningham, and Sarah Carter.
The Plot:
Falling Skies
chronicles the devastating aftermath of an alien attack that has left most of the world completely incapacitated. In the months since the initial invasion, the few remaining survivors have banded together outside major cities to begin the difficult task of fighting back. Each day is a test of survival as citizen soldiers work to protect the people in their care while also engaging in an insurgency campaign against the occupying alien force, whose nature and purpose remains a mystery.
Source: TNT