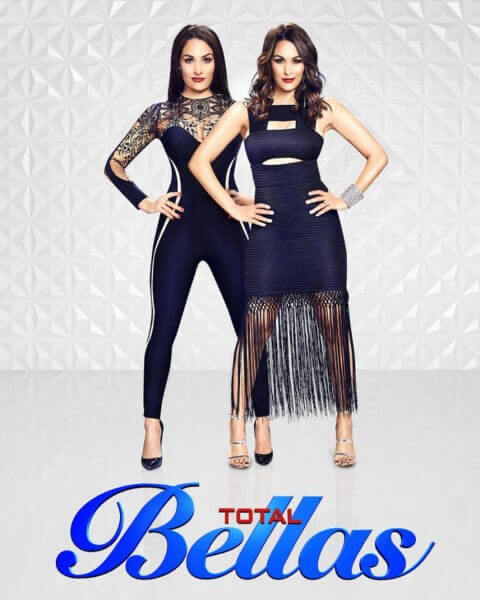 Just days after season three of E! Entertainment's Total Bellas wrapped up, the network's given the reality series a fourth season order. Total Bellas starring WWE superstars Nikki Bella and Brie Bella will return for season four after posting the highest ratings to date with the show's third season.
Season three of Total Bellas drew in almost 1 million viewers per episode which is a 22% increase over season two. The series is executive produced by Gil Goldschein, Russell Jay, Farnaz Farjam Chazan, and Kevin Dunn serving as executive producers. Series stars Nikki Bella and Brie Bella also executive produce Total Bellas.
"Nikki and Brie's willingness to be open about their struggles and celebrate their triumphs with their fans is what makes Total Bellas such a hit with our audience," stated Amy Introcaso-Davis, Executive Vice President, Development and Production, E! "The Bella Twins embody the strong, empowered women that we celebrate here at E!, and we are so excited to see what the future has in store for them next."
"I'm so excited for another season of Total Bellas and hope our journey continues to inspire, motivate and connect with our Bella Army," said Brie Bella.
Nikki Bella added, "I can't wait for our fans to join me in the next step of my life. I promise that it will be a fun, real and heartfelt adventure."
A Look Back at Season 3: Season three of Total Bellas saw Nikki make one of the most challenging decisions of her life in deciding to call off her high-profile wedding, Brie balancing being a new mom and a successful business woman with her sister, and Daniel Bryan's sensational return to the WWE ring. The third season also gave viewers a glimpse into Nikki and Brie's continued growth as entrepreneurs as they expand their businesses and launch new brands, from apparel to wine with Birdiebee and Belle Radici.