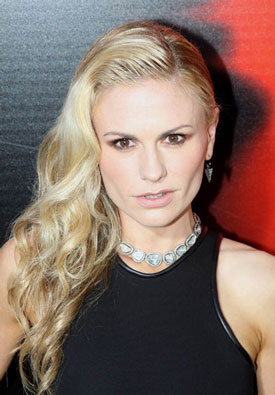 True Blood
star
Anna Paquin
is set to star in the Netflix series
Alias Grace
, based on Margaret Atwood's novel. Paquin will join Zachary Levi and Sarah Gadon in the miniseries written and executive produced by
Sarah Polley
.
American Psycho
's Mary Harron is directing the six hour miniseries which began shooting on August 15, 2016.
"Anna is an incredibly versatile performer who always makes complex, unpredictable and fascinating choices in her work," stated Sarah Polley. "It's always a marvel to watch her and we're thrilled to have her join the cast."
Alias Grace is a Netflix, CBC, and Halfire Entertainment production. Director Harron and Noreen Halpern are executive producing, with D.J. Carson producing.
The Plot: Alias Grace follows Grace Marks (Sarah Gadon) a poor, young Irish immigrant and domestic servant in Upper Canada who, along with stable hand James McDermott, was convicted of the brutal murders of their employer, Thomas Kinnear and Nancy Montgomery (Anna Paquin) in 1843. Nancy is Kinnear's housekeeper and lover, and while she initially befriends Grace, she begins to resent Grace and becomes increasingly jealous of Kinnear's affection for her. Nancy eventually fires Grace in a fit of rage and is later found brutally murdered.