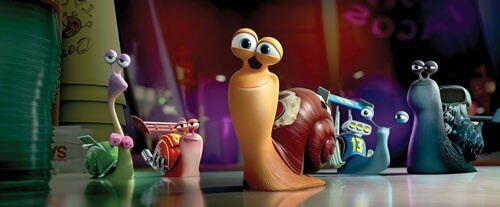 DreamWorks Animation's
Turbo
– the tale of a snail with dreams of racing – is going to be coming to the small screen as an animated series on Netflix. The series will be the first show on Netflix made just for kids. The new series,
Turbo: F.A.S.T.
(Fast Action Stunt Team), will premiere this December.
"Families love Netflix, so creating an original series for kids was a natural for us. And we're doing it in a big way by adapting
Turbo
, this year's DreamWorks Animation summer tentpole movie," stated Ted Sarandos, Chief Content Officer of Netflix. "DreamWorks Animation has a long track record of creating incredibly successful characters and stories that delight people of all ages. We're thrilled to add
Turbo
the series as well as all new DreamWorks Animation films, starting with their 2013 slate, to Netflix."
DreamWorks Animation's
Turbo
features the voices of Ryan Reynolds, Paul Giamatti, Michael Pena, Luis Guzman, Bill Hader, Richard Jenkins, Ken Jeong, Michelle Rodriguez, Maya Rudolph, Ben Schwartz, Kurtwood Smith, Snoop Lion and Samuel L. Jackson. The animated family-friendly, snail-friendly comedy hits theaters on July 19, 2013.
The Plot:
DreamWorks Animation's
Turbo
is a high velocity 3D comedy about an ordinary snail who dares to dream big – and fast. After a freak accident miraculously gives him the power of super-speed, Turbo kicks his dreaming into overdrive and embarks on an extraordinary journey to achieve the seemingly impossible: competing in the Indianapolis 500.
Turbo's pursuit of racing greatness continues in
Turbo: F.A.S.T.
, an episodic animated television series that picks up where the feature film leaves off. It showcases the world-traveling exploits of our snail hero and his tricked-out racing crew as they master outrageous new stunts and challenge any villain unlucky enough to cross their path.
Source: Netflix
Follow Us On: