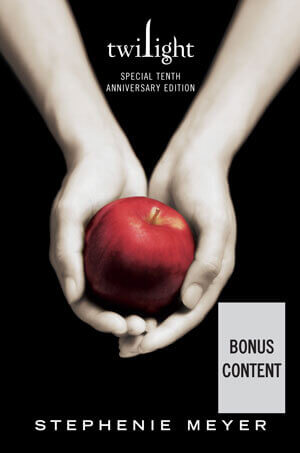 For those of you who still consider yourselves Twilighters, mark October 6, 2015 on your calendars now. That's the date Little, Brown Books for Young Readers will release a special 10th anniversary edition of the first book of the Twilight series. The new edition will feature bonus content and will come in an audio version as well as hardcover, ebook, and large print formats.
"It's amazing to me that ten years have passed since Twilight was first published," stated author Stephenie Meyer. "For me, this anniversary is a celebration of the fans, with all of their incredible passion and dedication. I'm excited to get to spend time with them again."
"I felt the same thrill reading this special anniversary edition as I did when I read the manuscript a decade ago," said Little, Brown Books Executive Vice President and Publisher Megan Tingley. "I'm pleased we have this opportunity for devoted fans to relive the extraordinary Twilight experience, as well as for a new generation of readers to discover it for the very first time."
Meyer's sparkly vegetarian vampire book series is made up of Twilight, New Moon, Eclipse, and Breaking Dawn, as well as The Short Second Life of Bree Tanner: An Eclipse Novella. The books have sold 155 million copies and spawned the five film franchise that starred Robert Pattinson as Edward and Kristen Stewart as Bella. Rumors circulated almost immediately after the final film arrived in theaters in November 2012 that the series would be remade with new actors. However, there hasn't been any actual confirmed news that Lionsgate has remakes of the Twilight films in the works.
In conjunction with the special anniversary release, Meyer will be heading to New York to appear at the NY Comic Con on October 8th where she'll be signing autographs and discussing the 10th anniversary edition.