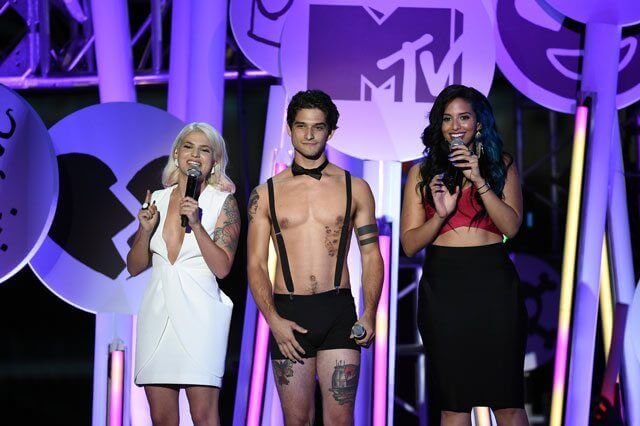 Teen Wolf
star Tyler Posey will host the
MTV Fandom Awards
for the second year in a row as just announced by the network. The MTV Fandom Awards will take place on July 21st at Petco Park in downtown San Diego during Comic Con, and Comic Con badge holders will be treated to free food, drinks, games, and give-aways during the MTV Fandom Fest leading up to the actual taping of the awards show. For those who can't watch the awards show live, MTV will air the MTV Fandom Awards on July 24th at 8pm ET/PT.
In addition to confirming the return of Posey as host, MTV announced the celebrities who'll be making their way to the stage to present awards. Nerve stars Emma Roberts and Dave Franco, Power Rangers stars Becky G, Naomi Scott, Ludi Lin, Darce Montgomery, and RJ Cyler, and Lights Out stars Teresa Palmer and Alexander Dipersia are scheduled to present. Also tapped to present are Travis Mills, Teen Wolf's Holland Roden and Cody Christian, The Shannara Chronicles' Austin Butler, and iZombie's Rose McIver, Malcolm Goodwin, Rahul Kohl, Robert Buckley, David Anders and Aly Michalka. Kent Jones, Pierce the Veil, and Krewella will perform.
The annual MTV Fandom Awards "honor the fans whose tenacious excitement pushes movies, TV, books and comics from subculture to mainstream worldwide success." The awards show hands out trophies for the Best New Fandom of the Year, Fan Freak Out of the Year, Bandom of the Year, Animation Fandom of the Year, and Best Revival Fandom of the Year.