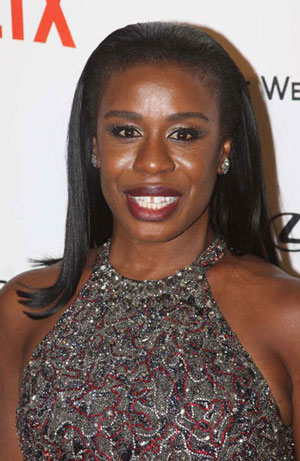 Glee's Amber Riley and Orange is the New Black's Uzo Aduba have signed on to the cast of NBC's musical event The Wiz Live!. According to the official announcement, Emmy winner Aduba will be playing Glinda, the Good Witch of the South. Glinda helps Dorothy find her way home. Riley has been cast as Addaperle, the Good Witch of the North. Addaperle is Glinda, Evillene, and Evvaemene's sister who isn't all that proficient at magic. It's Addaperle who directs Dorothy to follow the Yellow Brick Road.
"We are so happy to welcome two actors we've admired and wanted so much to work with," stated executive producers Craig Zadan and Neil Meron. "We look forward to showcasing the amazing musical talents of Amber and we are eager to introduce Uzo's remarkable singing voice for those who know her solely as an extraordinary dramatic actress."
NBC has set Queen Latifah to play the Wiz, the powerful wizard who rules Emerald City. Mary J. Blige has taken on the role of the Wicked Witch of the West, Evillene. Evillene is out for revenge following the death of her sister Evvamean. David Alan Grier has been tapped to play one of Dorothy's traveling companions, the Cowardly Lion.
Newcomer Shanice Williams has big shoes to fill as Dorothy. 19 year old Williams comes from a musical theater background and she's joined in the cast by Broadway's original Dorothy, Stephanie Mills, who will be playing Auntie Em.
Kenny Leon is the stage director and Matthew Diamond is the TV director.
Follow Us On: