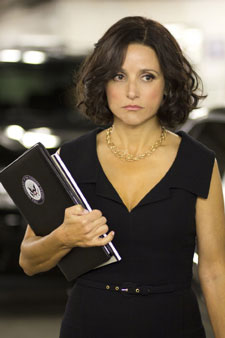 HBO just announced the premiere date for the second season of
Veep
, setting an April 14, 2013 debut of the returning comedy. Starring Julia Louis-Dreyfus and created by Armando Iannucci,
Veep
earned Louis-Dreyfus the Emmy for Outstanding Lead Actress in a Comedy Series for her work in season one.
Veep
, featuring Louis-Dreyfus as the Vice President of the United States, will have a 10 episode season two run. Returning players from season one include Tony Hale, Anna Chlumsky, Matt Walsh, Reid Scott, Timothy Simons, and Sufe Bradshaw.
Season two guest stars will include Gary Cole and Kevin Dunn.
The Plot:
Former senator Selina Meyer was a rising star in her party, a charismatic leader with White House potential. Then she became Vice President.
Veep
follows the whirlwind day-to-day existence of the Vice President as she puts out political fires, juggles a busy public schedule and demanding private life, and defends the president's interests, even as she tries to improve her dysfunctional relationship with the chief executive.
Source: HBO
Follow Us On: