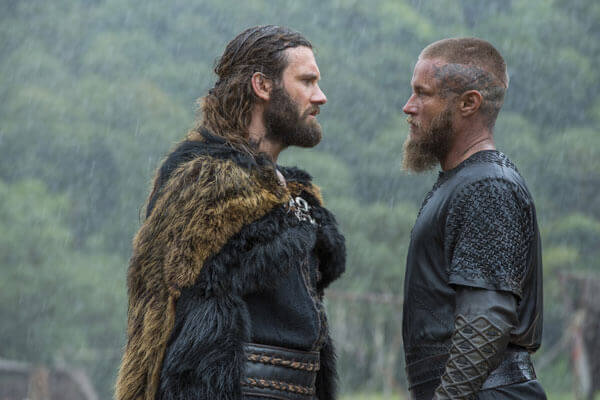 History's Vikings, which keeps getting better with each season, will be returning for season four. The network just announced the series' renewal, saying filming will get underway this spring in Ireland. Season three will be finishing up on April 23, 2015 and has been averaging 4.3 million viewers. According to History, it's the number one cable series on Thursday nights.
"Vikings has raided the hearts of both audiences and critics, establishing itself as one of the most compelling, visually stunning dramas on television," said Dirk Hoogstra, EVP and General Manager, HISTORY & H2, announcing the renewal. "We are so proud of our immensely talented cast and crew led by Michael Hirst, whose intriguing storylines and pivotal arcs have the perfect balance of scope, smarts and bloodshed to keep our loyal fans watching and wanting more."
Michael Hirst created the critically acclaimed series and serves as writer and executive producer. The cast is led by Travis Fimmel and includes Clive Standen, Katheryn Winnick, Gustaf Skarsgard, George Blagden, Alexander Ludwig, Alyssa Sutherland, Jessalyn Gilsig, Linus Roache, and Kevin Durand.
"Vikings is a tremendous success worldwide thanks to the visionary talents of Michael Hirst, the entire creative team and our partners at HISTORY," said Roma Khanna, President, Television Group and Digital, MGM. "We look forward to entertaining audiences worldwide with the next epic season."
-By Rebecca Murray
Follow Us On: