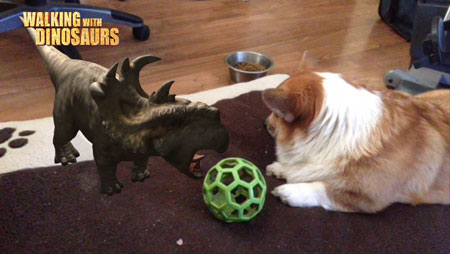 My Corgi, Sookie, is used to having a camera aimed her direction and she's even gotten used to being the guinea pig for new apps (check out her pose with Gollum
here
or what happened when I used the
Walking Dead zombie app
on her). And when 20th Century Fox and BBC Worldwide sent me info on their new
Walking with Dinosaurs
app, it was only a matter of seconds before I'd snapped a photo of her next to a dinosaur. Getting the dinosaur to go where you want it to in a photo does take a little bit of finesse, however a few minutes of practice time is all it should take to get the hang of it.
The
Walking with Dinosaurs
: Photo Adventure app works with iPhones, iPads, iPod touch and Android devices and is free to download from
iTunes
and Google Play. The Photo Adventure allows users to insert a dinosaur from the film in photos in "lifelike detail" using the technology employed in the movie.
"
Walking with Dinosaurs
: Photo Adventure brilliantly uses augmented reality to bring the big screen stars of
Walking with Dinosaurs
bursting into your world thanks to a fun and creative app that allows you to come face to face with a gigantic Gorgosaurus and share the moment with your friends," stated Paul Joffe, VP Digital Entertainment & Games, BBC Worldwide.
Highlights of the Walking with Dinosaurs: Photo Adventure
[Courtesy of 20th Century Fox and BBC Worldwide]:
– Astonishing lifelike augmented reality dinosaurs, added to any real world location.
– Easy to use camera features allow placing and posing virtual dinosaurs in the camera view, with options to adjust lighting and add colour to the dinosaurs.
– Ability to instantly share pictures to Facebook and Twitter.
– Meet the stars of Walking with Dinosaurs, including our hero-in-waiting Patchi, his tough brother Scowler, sweet Juniper, and a terrifying Gorgosaurus villain.
– Facts at your fingertips about a variety of lesser-known dinosaur species.
Walking with Dinosaurs
opens in theaters on December 20, 2013.
Follow Us On:
Stumble It!