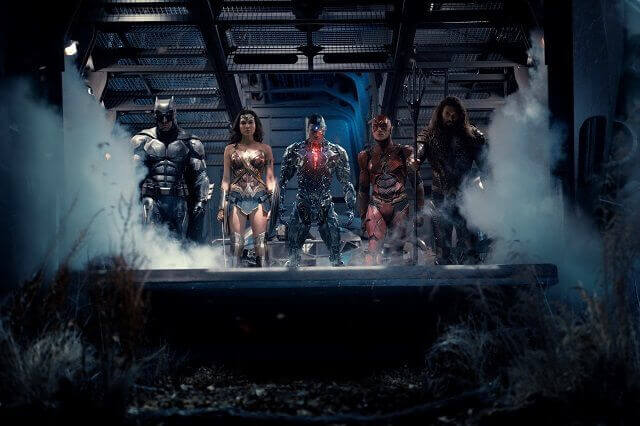 Warner Bros Pictures' presentation at the 2017 CinemaCon began with a video greeting from Going in Style stars Alan Arkin, Morgan Freeman, and Michael Caine. And while that threesome were part of the presentation via video, Warner Bros brought quite the collection of stars to the stage at Caesars Palace in Las Vegas. Filmmaker Christopher Nolan was up first to discuss Dunkirk. Denise Di Novi, Rosario Dawson and Katherine Heigl introduced Unforgettable, and Ed Helms joined director Larry Sher to joke around about Bastards. Charlie Hunnam promised a very different King Arthur when King Arthur: Legend of the Sword arrives in May. And Blade Runner 2049 brought Jared Leto, Ana de Armas, and director Denis Villeneuve to the Vegas gathering of National Association of Theatre Owners members.
Writer/director/producer Christopher Nolan will likely be busy come awards season with the World War II film, Dunkirk. Before introducing a short film which he describes as a prologue, Nolan said Dunkirk is at its heart a survival story and one of the greatest stories in history. Nolan's goal was to make the film in the most visceral way possible, putting the audience on the beach and in the cockpit with the characters. Nolan shot the film in large format celluloid and he used the IMAX cameras to their full effect. He also said that Dunkirk is a film that deserves to be seen on the big screen when it arrives on July 21st.
Blade Runner 2049 star Jared Leto revealed there are very few films that have struck him as deep as the original Blade Runner. Leto said the new Blade Runner has an incredible cast and crew, and he considers it to be one of the great honors of his life to be a part of this production. Villeneuve added, "To see Harrison Ford back in his iconic character, Rick Deckard, was mind-blowing." After the introduction, a lengthy behind-the-scenes video was shown featuring footage from the set and interview clips with the cast, including Harrison Ford.
Charlie Hunnam helped build the hype on King Arthur: Legend of the Sword by declaring it's a little bit different from the King Arthur we all expect. Hunnam said we're used to seeing a noble man who goes on a noble quest to become a noble king. "We've decided to do pretty much the exact opposite. Where you meet Arthur in the story is he's from the back alleys of London where he's surviving with his cunning and his fists," explained Hunnam. "He doesn't even know that he's born to be a king and when he finds out, he doesn't want it." Hunnam said viewers should expect the unexpected, calling it cheeky, naughty, and fun.
The DC universe was represented by Ben Affleck, Henry Cavill, Jason Momoa, Ezra Miller, Ray Fisher, Chris Pine, and directors Patty Jenkins and Zack Snyder. Warner Bros. wisely scheduled the DC segment to close out their presentation, and Jason Momoa was met with enthusiastic applause as the first member of the Justice League squad to be introduced. Momoa was on stage first to promote the solo Aquaman movie which won't be entering theaters until December 21, 2018, teasing that he's seen Justice League and it's greatest movie in the world. Momoa revealed he's off to Australia after leaving the CinemaCon stage to begin filming Aquaman for director James Wan. Because production hasn't yet begun, there was nothing to show from the film. However, Wan did put together concept art and model footage which he narrated in a short video. Wan, who was getting ready to begin production and couldn't make the trip to Vegas, said Aquaman is a badass and Momoa is the complete embodiment of the character.
Gal Gadot was, unfortunately, unable to attend so it was up to Wonder Woman's director Patty Jenkins and Gadot's co-star Chris Pine to take the stage to show off about 10 minutes of footage from the superhero film. The love story in the film was highlighted in the footage screened at CinemaCon, and Pine described the film as having a Casabalanca theme unlike anything we've previously seen in a superhero film. That said, the footage also included plenty of shots of Wonder Woman taking out her adversaries while, at one point, protecting Pine's character, Steve Trevor.
The Warner Bros Pictures presentation ended with members of the Justice League – Ben Affleck, Henry Cavill, Ezra Miller, Jason Momoa, and Ray Fisher – joining director Zack Snyder on stage. Snyder did all the talking for the Justice League team, saying it all began with a phone call. For Snyder, helming a Justice League film has been a seven year journey that started with producers Emma Thomas and Christopher Nolan asking how he felt about Superman. Snyder said he's a huge fan of these characters and it's a dream come true to have them all together in one film.
During the presentation, trailers and video clips were also shown from Bastards, The House, Annabelle: Creation (previously titled Annabelle 2), It, Geostorm, The LEGO Ninjago Movie, and Everything, Everything.