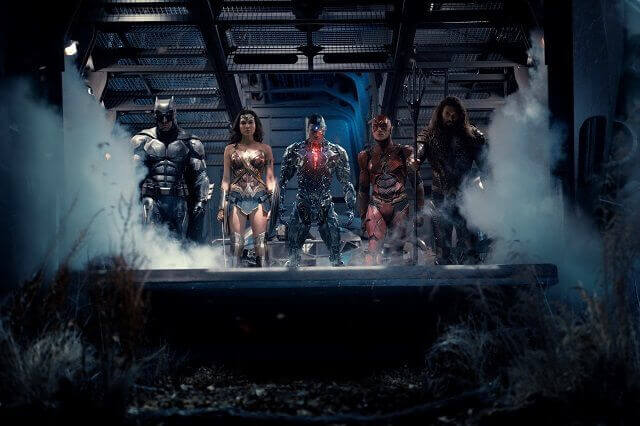 Warner Bros Pictures' 2017 San Diego Comic Con plans include Steven Spielberg's Ready Player One, Aquaman starring Jason Momoa, Justice League, and the sci-fi action sequel, Blade Runner 2049. The studio will be hosting a panel in Hall H on Saturday, July 22nd at 11:30am that will include exclusive clips from those films as well as a parade of all-star talent.
Ready Player One will be represented by director Spielberg, screenwriters Ernest Cline and Zak Penn, and the film's stars Tye Sheridan, Olivia Cooke, and T.J. Miller. Director Denis Villeneuve, writers Hampton Fancher and Michael Green, and actors Ryan Gosling, Harrison Ford, Ana de Armas, Sylvia Hoeks, Robin Wright, Lennie James, and Mackenzie Davis will make the trip to San Diego to promote Blade Runner 2049. Justice League and Aquaman will have Ben Affleck, Gal Gadot, Jason Momoa, Ezra Miller, and Ray Fisher on stage to take questions from what's sure to be one of the most crowded panels of the 2017 Comic Con.
The LEGO® NINJAGO® Movie will have it own panel in Room 6A on Thursday, July 20th. Dave Franco, Justin Theroux, Abbi Jacobson, Olivia Munn, Kumail Nanjiani, Michael Peña, and Zach Woods will join producer Dan Lin for a Q&A. Per Warner Bros, "attendees will receive an exclusive, movie-themed giveaway."
The studio will also be promoting upcoming theatrical releases Annabelle: Creation and It with special events outside of the San Diego Convention Center. An advance Annabelle: Creation screening will take place on July 19th at Westfield Horton Plaza, followed by a Q&A with stars Stephanie Sigman, Talitha Bateman, Lulu Wilson and Anthony LaPaglia, and director David F. Sandberg. Warner Bros is promoting It with a virtual reality installation the studio says is the "creepiest school bus in town" set up in the Interactive Zone across from Petco Park.
"Every year we look forward to Comic-Con and every year we—along with our wonderful actors and filmmakers—eagerly share our enthusiasm for the upcoming Warner Bros. slate. Coming off the success we're enjoying with Wonder Woman, we are more excited than ever to interact with the fans, thank them for their ongoing support, and give them a taste of the incredible films we have for them in the coming months and into 2018," said Sue Kroll, President, Worldwide Marketing and Distribution.
Ready Player One Plot: From filmmaker Steven Spielberg comes the science fiction action adventure Ready Player One, based on Ernest Cline's bestseller of the same name, which has become a worldwide phenomenon. The film is set in 2045, with the world on the brink of chaos and collapse. But the people have found salvation in the OASIS, an expansive virtual reality universe created by the brilliant and eccentric James Halliday. When Halliday dies, he leaves his immense fortune to the first person to find a digital Easter egg he has hidden somewhere in the OASIS, sparking a contest that grips the entire world. When an unlikely young hero named Wade Watts decides to join the contest, he is hurled into a breakneck, reality-bending treasure hunt through a fantastical universe of mystery, discovery and danger. Slated for release on March 30, 2018.
Blade Runner 2049 Details: From director Denis Villeneuve comes Alcon Entertainment's science fiction thriller Blade Runner 2049, the much-anticipated sequel to the acclaimed sci-fi film Blade Runner. Thirty years after the events of the first film, a new blade runner, LAPD Officer K, unearths a long-buried secret that has the potential to plunge what's left of society into chaos. K's discovery leads him on a quest to find Rick Deckard, a former LAPD blade runner who has been missing for 30 years. The film stars Ryan Gosling, Harrison Ford, Ana de Armas, Sylvia Hoeks, Robin Wright, Mackenzie Davis, Carla Juri, and Lennie James, with Dave Bautista and Jared Leto. Opening on October 6, 2017, in 2D and 3D in select theatres and IMAX.
Aquaman Plot: Warner Bros. Pictures' action adventure Aquaman is helmed by James Wan and stars Jason Momoa in the title role, returning to the character he plays in this fall's Justice League. The film also stars Amber Heard, Willem Dafoe, Temuera Morrison, Dolph Lundgren, Yahya Abdul-Mateen II, with Patrick Wilson, and Nicole Kidman. An icon for over 75 years, Aquaman is known by fans of DC Comics as the ruler of Atlantis but committed to protecting the entire globe, both land and sea. Currently set for a 2018 release, the film is based on characters from DC.
The Justice League Plot: From Warner Bros. Pictures comes Justice League, directed by Zack Snyder and starring Ben Affleck, Gal Gadot, Jason Momoa, Ezra Miller, and Ray Fisher as the famed lineup of DC Super Heroes. Fueled by his restored faith in humanity and inspired by Superman's selfless act, Bruce Wayne enlists the help of his newfound ally, Diana Prince, to face an even greater enemy. Together, Batman and Wonder Woman work quickly to find and recruit a team of metahumans to stand against this newly awakened threat. But despite the formation of this unprecedented league of heroes—Batman, Wonder Woman, Aquaman, Cyborg and The Flash—it may already be too late to save the planet from an assault of catastrophic proportions. The film is set for release in 3D and 2D in select theaters and IMAX on November 17, 2017.
Annabelle: Creation Details: From New Line Cinema comes Annabelle: Creation, with David F. Sandberg directing. The new film is once again being produced by Peter Safran and James Wan, who previously partnered on The Conjuring hit movies. Several years after the tragic death of their little girl, a doll maker and his wife welcome a nun and several girls from a shuttered orphanage into their home. They soon become the target of the doll maker's possessed creation, Annabelle. Slated for release August 11, 2017.
It Plot: New Line Cinema's horror thriller It is based on the hugely popular Stephen King novel of the same name, which has been terrifying readers for decades. When children begin to disappear in the town of Derry, Maine, a group of young kids are faced with their biggest fears when they square off against an evil clown named Pennywise, whose history of murder and violence dates back for centuries. It stars Bill Skarsgård as the story's central villain, Pennywise, alongside Jaeden Lieberher, Jeremy Ray Taylor, Sophia Lillis, Finn Wolfhard, Wyatt Oleff, Chosen Jacobs, Jack Dylan Grazer, Nicholas Hamilton and Jackson Robert Scott. Slated for release on September 8, 2017.
The LEGO NINJAGO Movie Plot: A new animated adventure in Warner Bros. Pictures' LEGO® franchise, The LEGO NINJAGO® Movie stars Dave Franco, Justin Theroux, Fred Armisen, Abbi Jacobson, Olivia Munn, Kumail Nanjiani, Michael Peña, Zach Woods, and the legendary Jackie Chan. In this big-screen NINJAGO adventure, the battle for NINJAGO City calls to action young Master Builder Lloyd, aka the Green Ninja, along with his friends, who are all secret ninja warriors. Led by Master Wu, as wise-cracking as he is wise, they must defeat evil warlord Garmadon, The Worst Guy Ever, who also happens to be Lloyd's dad. Pitting mech against mech and father against son, the epic showdown will test this fierce but undisciplined team of modern-day ninjas who must learn to check their egos and pull together to unleash their inner power of Spinjitzu. The film is slated to open on September 22, 2017 in both 3D and 2D.