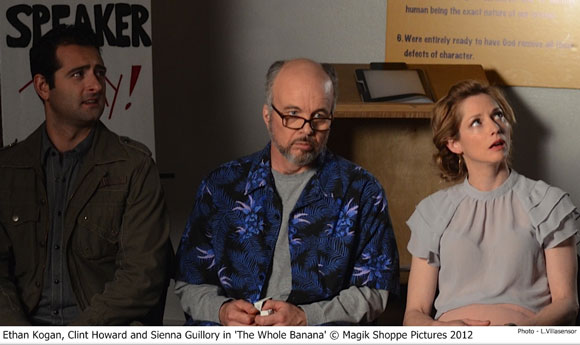 Sienna Guillory, John Savage, and Clint Howard have joined the cast of the romantic comedy,
The Whole Banana
, which just began shooting last week in Los Angeles.
The Whole Banana
is based on the play by Deb Norton and is directed by Stephen Wallis (
Rain from Stars
,
The Wicked Within
). Wallis also produces the film along with John Bennett Perry, Stelio Savante and Tom Fox.
Guillory, Savage, and Howard join Kristy Swanson, Kevin Sorbo, Dominique Swain, Stelio Savante, and Jeffrey Vincent Parise in the Magik Shoppe Pictures production. Matthew Perry (best known for his starring role on the long-running TV series,
Friends
) & Dean Cain (
Lois & Clarke
) will have large cameo roles in
The Whole Banana
.
The Plot:
The plot revolves around struggling artist Fran (Kristy Swanson) who is so discouraged by the men in her life, that she frequently prays to Greek god Hermes (Kevin Sorbo). Taken by her faithful appeal, Hermes ventures into Fran's life and sweeps her off her feet. Unfortunately for Fran there is a two week limit on Hermes earthly vacation.
Source: Magik Shoppe Pictures – March 6, 2012