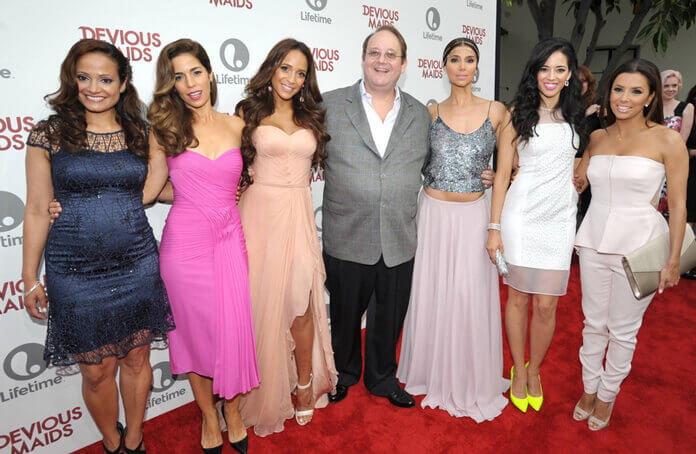 CBS All Access has just given a direct-to-series order for Why Women Kill, a series described as a darkly comedic drama. The just-greenlit series comes from Marc Cherry from Devious Maids and Desperate Housewives. Cherry created the new show and will serve as an executive producer with Brian Grazer, Francie Calfo, Michael Hanel, and Mindy Schultheis.
The dramedy is an Imagine Television Studios and CBS Television Studios production.
"As much as we like to think that the institution of marriage has evolved over the past few decades, infidelity still has the ability to rock us to our core. Why Women Kill will explore what happens when women's primal instincts are unleashed with unexpected and twisted consequences," stated Marc Cherry. "I couldn't be more thrilled to be working with two exceptional companies to bring this series to life. Both Imagine and CBS All Access are wonderful partners, and I'm looking forward to an amazing collaboration."
"Having worked with Marc 15 years ago on Desperate Housewives, it is clear he has captured lightning in a bottle again with the depiction of three women who are so richly drawn that they defy expectations at every turn," said Julie McNamara, Executive Vice President, Original Content, CBS All Access. "Why Women Kill poses powerful cultural questions with Marc's inimitable, biting wit, and we look forward to taking viewers on this wild ride."
"As we began the process of building Imagine Television Studios, Marc was at the top of my list of premium writers who I knew could create an inventive, razor-sharp series to cut through the marketplace – and Marc delivered on all counts. We are honored and thrilled to be partners with Julie and her team at CBS All Access on this project and look forward to playing a key role in bringing viewers to their streaming service," said Imagine's Francie Calfo.
The Why Women Kill Plot:
"Why Women Kill details the lives of three women living in three different decades: a housewife in the '60s, a socialite in the '80s and a lawyer in 2018, each dealing with infidelity in their marriages. The series will examine how the roles of women have changed, but how their reaction to betrayal… has not."