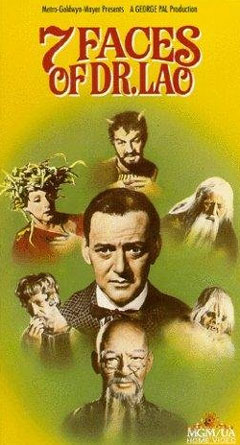 By James Colt Harrison
Most filmgoers don't notice makeup on the stars unless it's in an unusual special effects design that features the actors in bizarre or weird proportions. Startling makeup goes way back to silent screen star Lon Chaney in his famous Phantom of the Opera horror faces or Boris Karloff's scary Frankenstein visage in all the 1930s Universal horror pictures. Chaney is said to have devised all his own makeup, and Karloff was the beneficiary of makeup artist Jack Pierce's (1889-1968) wizardry.
There was another man in Hollywood who was more or less the exact opposite of Jack Pierce. That was William Tuttle, who was attached to Metro Goldwyn Mayer's makeup department for 35 years. Mogul Louis B. Mayer, who ran MGM with an iron hand, wanted all the studio's product to be "beautiful pictures with beautiful people." Mayer's slick films were a far cry from the low budget Universal horror thrillers, and Tuttle was just the man to give Mayer what he wanted.
Growing up in Jacksonville, Florida where he was born on April 13, 1912, Tuttle gravitated more toward music than anything else. He got work as a violinist in vaudeville and occasionally appeared as a comic on stage. When his father abandoned the family, William at age 15 went to work to help support his mother and his younger brother Thomas. He worked in burlesque theatres and for a time fronted his own small band.
Seeing there was more creative opportunity out West in 1930, Tuttle moved to Los Angeles at age 18. He enrolled at USC and took some art classes with friend Charles Schram (1911 – 2008). Later, he and Schram became long-time makeup effects collaborators. Needing work in Hollywood, Tuttle became a makeup apprentice by accident. Jack Dawn, one of the best makeup artists in the business during that era, asked the college dean to recommend some students who could learn the art of makeup. Dawn became their mentor. Dawn was in charge of the makeup department at 20th Century Pictures and gave Tuttle a big chance. When Dawn left 20th Century Pictures for the job as head of MGM's Makeup Department in 1934, Tuttle and Schram tagged along and worked on the 1937 production The Good Earth starring Luise Rainer. Schram is best known for his development of the makeup for The Cowardly Lion on actor Bert Lahr for the iconic The Wizard of Oz in 1939. Tuttle worked for 15 years under Dawn's guidance. It was the heyday of the studio system.
Because Tuttle was working at MGM during its Golden Era, he was able to trowel on makeup for those stars who didn't look so good and enhance those stars who were naturally gorgeous. Some of the stars who sat in his chair in the MGM makeup department were Katharine Hepburn (Pat and Mike), Greer Garson, Clark Gable, Judy Garland (Summer Stock), Gene Kelly (Singin' In The Rain), June Allyson, Peter Lawford, Esther Williams (Million Dollar Mermaid), Fred Astaire, Ginger Rogers, Hedy Lamarr, Elizabeth Taylor (Father of the Bride), Lana Turner, and Ava Gardner. MGM was always touted as "having more stars than there are in the heavens" and Tuttle had access to all of them, creating the Hollywood illusion that stars were of another world.
When studio chief Louis B. Mayer said he wanted all women to appear beautiful and all the men should be handsome, Tuttle took him at his word. He even created the makeup for leggy dancing star Cyd Charisse in the musicals The Band Wagon and Brigadoon. Ms. Charisse was just one of the stars he made look better during his 35 year-tenure. After Jack Dawn's retirement, Tuttle was head of MGM's makeup department from 1950 to 1969.
When Tuttle created all the elaborate makeup for Tony Randall in The 7 Faces of Dr. Lao in 1965, he became the first recipient recognized with a special Oscar® for his makeup work. This was 17 years before there was an official competitive category begun in 1981.
Other significant pictures for which Tuttle created imaginative makeup were The Time Machine, Cat on a Hot Tin Roof with Elizabeth Taylor and Paul Newman, Lust For Life (transforming Kirk Douglas into artist Vincent Van Gogh), Gigi, and The Bad and The Beautiful. He transformed white Southern beauty Ava Gardner into a sepia-toned Mulatto for the musical Show Boat.
When Tuttle first went to MGM he was assigned to do the makeup for unknown starlet Donna Reed. It was love at first sight and they were married from 1943 to 1945. Reed later won a Best Supporting Actress Oscar® for From Here To Eternity (1953). Tuttle had a total of five marriages, producing two children.
Tuttle stayed with MGM until gambler/business man Kirk Kirkorian bought the studio and began destroying it bit by bit. Backlots filled with iconic sets were unceremoniously sold off for development housing tracts, costumes gotten rid of, all sorts of MGM memorabilia was dumped into landfills. This was too heart-breaking for Mr. Tuttle, and so he left MGM around 1970.
His film career was far from over. He created the outstanding makeup for Mel Brook's comedy-horror film Young Frankenstein (1974) and for the comedy Same Time, Next Year (1978). He had also developed his own line of makeup products called Custom Color Cosmetics in 1975 which became the most popular makeup used by professionals for the next 20 years.
With Hollywood studios changing drastically with the advent of television, Tuttle stayed up with the times and worked professionally in the new medium. He created many of the effects for the sci-fi series The Twilight Zone (remember the pig faces?). He worked for CBS on some TV movies and kept busy. His last film work was with George Hamilton on Zorro, The Gay Blade in 1981.
William Tuttle died July 27, 2007 at age 95. He will always be remembered for his astonishing career at MGM doing makeup for such stars as Marlon Brando in Mutiny on the Bounty (1962), Hurd Hatfield in The Picture of Dorian Gray (1945), and on 10 Elvis Presley pictures. Those and others were included in Tuttle's more than 300 films.
Follow Us On: