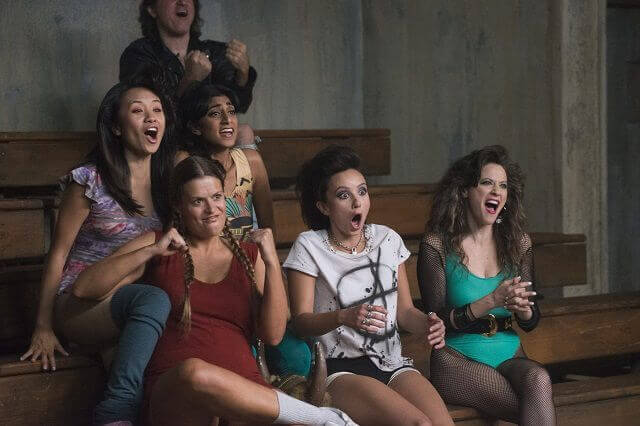 Members of the Writers Guild of America, West (WGAW) and the Writers Guild of America, East (WGAE) have released the list of nominees in the outstanding achievement in television, new media, news, radio/audio, and promotional writing categories. The just-announced Writer Guild Awards nominations represent the best of 2017, with The Americans, Better Call Saul, Game of Thrones, The Handmaid's Tale, and Stranger Things snagging nominations in the best dramatic series category.
The Americans won in the best dramatic series category in 2017. Noticeably missing this year is NBC's This is Us which failed to score any nominations from the WGA.
Curb Your Enthusiasm, GLOW, Master of None, Silicon Valley, and Veep earned nominations in the best comedy series category. Last year's winner, Atlanta, hasn't aired new episodes since the 2017 WGA awards so it was not eligible for consideration.
Winners will be announced during the 2018 Writers Guild Awards to be held on Sunday, February 11th. Ceremonies will be held in both Los Angeles at the Beverly Hilton and New York City at the Edison Ballroom.
DRAMA SERIES
The Americans, Written by Peter Ackerman, Tanya Barfield, Joshua Brand, Joel Fields, Stephen Schiff, Joe Weisberg, Tracey Scott Wilson; FX
Better Call Saul, Written by Ann Cherkis, Vince Gilligan, Jonathan Glatzer, Peter Gould, Gennifer Hutchison, Heather Marion, Thomas Schnauz, Gordon Smith; AMC
Game of Thrones, Written by David Benioff, Bryan Cogman, Dave Hill, D.B. Weiss; HBO
The Handmaid's Tale, Written by Ilene Chaiken, Nina Fiore, Dorothy Fortenberry, Leila Gerstein, John Herrera, Lynn Maxcy, Bruce Miller, Kira Snyder, Wendy Straker Hauser, Eric Tuchman; Hulu
Stranger Things, Written by Paul Dichter, Justin Doble, The Duffer Brothers, Jessica Mecklenburg, Jessie Nickson-Lopez, Alison Tatlock; Netflix
COMEDY SERIES
Curb Your Enthusiasm, Written by Larry David, Jon Hayman, Justin Hurwitz, Jeff Schaffer; HBO
GLOW, Written by Kristoffer Diaz, Liz Flahive, Tara Herrmann, Nick Jones, Jenji Kohan, Carly Mensch, Emma Rathbone, Sascha Rothchild, Rachel Shukert; Netflix
Master of None, Written by Aziz Ansari, Andrew Blitz, Zoe Jarman, Cord Jefferson, Sarah Peters, Sarah Schneider, Michael Schur, Leila Strachan, Gene Stupnitsky, Lakshmi Sundaram, Lena Waithe, Jason Woliner, Alan Yang; Netflix
Silicon Valley, Written by Alec Berg, Donick Cary, Adam Countee, Jonathan Dotan, Mike Judge, Carrie Kemper, John Levenstein, Dan Lyons, Carson Mell, Dan O'Keefe, Clay Tarver; Aaron Zelman; HBO
Veep, Written by Rachel Axler, Sean Gray, Alex Gregory, Peter Huyck, Erik Kenward, Billy Kimball, Steve Koren, Dave Mandel, Jim Margolis, Lew Morton, Georgia Pritchett, Will Smith, Alexis Wilkinson; HBO
NEW SERIES
American Vandal, Written by Seth Cohen, Lauren Herstik, Dan Lagana, Kevin McManus, Matthew McManus, Jessica Meyer, Dan Perrault, Amy Pocha, Mike Rosolio, Tony Yacenda; Netflix
The Deuce, Written by Megan Abbott, Marc Henry Johnson, Lisa Lutz, George Pelecanos, Richard Price, Will Ralston, David Simon, Chris Yakaitis; HBO
GLOW, Written by Kristoffer Diaz, Liz Flahive, Tara Herrmann, Nick Jones, Jenji Kohan, Carly Mensch, Emma Rathbone, Sascha Rothchild, Rachel Shukert; Netflix
The Handmaid's Tale, Written by Ilene Chaiken, Nina Fiore, Dorothy Fortenberry, Leila Gerstein, John Herrera, Lynn Maxcy, Bruce Miller, Kira Snyder, Wendy Straker Hauser, Eric Tuchman; Hulu
Ozark, Written by Whit Anderson, Bill Dubuque, Ryan Farley, Alyson Feltes, Paul Kolsby, David Manson, Chris Mundy, Mark Williams, Ning Zhou, Martin Zimmerman; Netflix
LONG FORM ORIGINAL
American Horror Story: Cult, Written by Brad Falchuk, John J. Gray, Joshua Green, Todd Kubrak, Crystal Liu, Tim Minear, Ryan Murphy, Adam Penn, James Wong; FX
Feud: Bette and Joan, Written by Jaffe Cohen, Tim Minear, Ryan Murphy, Gina Welch, Michael Zam; FX
Flint, Written by Barbara Stepansky; Lifetime
Godless, Written by Scott Frank; Netflix
Manhunt: Unabomber, Written by Jim Clemente, Tony Gittelson, Max Hurwitz, Steven Katz, Nick Schenk, Andrew Sodroski, Nick Towne; Discovery Channel
LONG FORM ADAPTED
Big Little Lies, Teleplay by David E. Kelley, Based on the Novel by Liane Moriarty; HBO
Fargo, Written by Monica Beletsky, Bob DeLauren, Noah Hawley, Ben Nedivi, Matt Wolpert, Based on the film Fargo; FX
The Immortal Life of Henrietta Lacks, Teleplay by Peter Landesman and Alexander Woo and George C. Wolfe, Based on the book written by Rebecca Skloot; HBO
The Wizard of Lies, Teleplay by Sam Levinson and John Burnham Schwartz and Samuel Baum, Based on the Book Written by Diane B. Henriques and Truth and Consequences by Laurie Sandell; HBO
SHORT FORM NEW MEDIA ADAPTED
"John Hancock" (Marvel's Agents of S.H.I.E.L.D.: Slingshot), Written by James C. Oliver & Sharla Oliver; abc.go.com
"Chapter 2" (The Walking Dead: Red Machete), Written by Nick Bernardone; amc.com
"Justicia" (Marvel's Agents of S.H.I.E.L.D.: Slingshot), Written by Mark Leitner; abc.go.com
"Starboy" (Zac & Mia), Teleplay by Allen Clary and Andrew Rothschild, Based on the novel Zac & Mia by A.J. Betts; go90.com
ANIMATION
"Brunchsquatch" (Bob's Burgers), Written by Lizzie Molyneux & Wendy Molyneux; Fox
"A Father's Watch" (The Simpsons), Written by Simon Rich; Fox
"Ruthie" (BoJack Horseman), Written by Joanna Calo; Netflix
"The Serfsons" (The Simpsons), Written by Brian Kelley; Fox
"Time's Arrow" (BoJack Horseman), Written by Kate Purdy; Netflix
EPISODIC DRAMA
"The Book of Nora" (The Leftovers), Teleplay by Tom Perrotta & Damon Lindelof, Story by Tom Spezialy & Damon Lindelof; HBO
"Chicanery" (Better Call Saul), Written by Gordon Smith; AMC
"The Heart Attack is the Best Way" (Good Behavior), Written by Chad Hodge; TNT
"Homecoming" (The OA), Written by Brit Marling & Zal Batmanglij; Netflix
"Slip" (Better Call Saul), Written by Heather Marion; AMC
"The Soviet Decision" (The Americans), Written by Joe Weisberg & Joel Fields; FX
EPISODIC COMEDY
"The Burglary" (Grace and Frankie), Written by Brendan McCarthy & David Budin; Netflix
"Intervention" (The Carmichael Show), Written by Willie Hunter; NBC
"Judge" (Veep), Written by Ted Cohen; HBO
"Rosario's Quinceanera" (Will & Grace), Written by Tracy Poust & Jon Kinnally; NBC
"The Verdict" (Trial & Error), Written by Jeff Astrof; NBC
COMEDY/VARIETY TALK SERIES
Conan, Head Writer: Matt O'Brien, Writers: Jose Arroyo, Daniel Cronin, Andres du Bouchet, Jessie Gaskell, Michael Gordon, Brian Kiley, Laurie Kilmartin, Leah Krinsky, Stephen Kutner, Todd Levin, Levi MacDougall, Conan O'Brien, Paul Richter, Frank Smiley, Mike Sweeney; TBS
Full Frontal with Samantha Bee, Writers: Samantha Bee, Ashley Nicole Black, Pat Cassels, Eric Drysdale, Mathan Erhardt, Travon Free, Joe Grossman, Jo Miller, Jason Reich, Melinda Taub; TBS
Jimmy Kimmel Live, Writers: Jimmy Kimmel, Tony Barbieri, Jonathan Bines, Joelle Boucai, Gonzalo Cordova, Devin Field, Gary Greenberg, Josh Halloway, Sal Iacono, Eric Immerman, Jesse Joyce, Bess Kalb, Jeff Loveness, Molly McNearney, CeCe Pleasants, Danny Ricker, Joe Strazzullo; ABC
Last Week Tonight with John Oliver, Writers: Tim Carvell, Josh Gondelman, Dan Gurewitch, Geoff Haggerty, Jeff Maurer, John Oliver, Scott Sherman, Will Tracy, Jill Twiss, Juli Weiner, Ben Silva, Seena Vali; HBO
Late Night with Seth Meyers, Writers: Jermaine Affonso, Alex Baze, Bryan Donaldson, Sal Gentile, Matt Goldich, Dina Gusovsky, Jenny Hagel, Allison Hord, Mike Karnell, John Lutz, Seth Meyers, Ian Morgan, Seth Reiss, Amber Ruffin, Mike Scollins, Mike Shoemaker, Ben Warheit; NBC Universal
Real Time with Bill Maher, Writers: Scott Carter, Adam Felber, Matt Gunn, Brian Jacobsmeyer, Jay Jaroch, Chris Kelly, Bill Maher, Billy Martin, Bob Oschack, Danny Vermont; HBO
The Daily Show with Trevor Noah, Writers: Dan Amira, David Angelo, Steve Bodow, Kashana Cauley, Devin Delliquanti, Zach DiLanzo, Hallie Haglund, David Kibuuka, Matt Koff, Adam Lowitt, Dan McCoy, Trevor Noah, Joseph Opio, Zhubin Parang, Owen Parsons, Daniel Radosh, Lauren Sarver-Means, Michelle Wolf; Comedy Central
The Jim Jefferies Show, Head Writer: Jason Reich, Writers: Jim Jefferies, Subhah Agarwal, Kevin Avery, Curtis Cook, Lucas Kavner, Matt Kirshen, Bryan Olsen, Laura Willcox, JJ Whitehead, Scott Y. Zabielski; Comedy Central
COMEDY/VARIETY SKETCH SERIES
Nathan For You, Writers: Leo Allen, Nathan Fielder, Carrie Kemper, Michael Koman, Adam Locke-Norton, Eric Notarnicola; Comedy Central
Portlandia, Writers: Fred Armisen, Carrie Brownstein, Karen Kilgariff, Jonathan Krisel, Graham Wagner; IFC
Saturday Night Live, Head Writers: Chris Kelly, Sarah Schneider, Bryan Tucker, Writers: James Anderson, Kristen Bartlett, Jeremy Beiler, Neal Brennan, Zack Bornstein, Joanna Bradley, Megan Callahan, Michael Che, Anna Drezen, Fran Gillespie, Sudi Green, Steve Higgins, Colin Jost, Erik Kenward, Rob Klein, Nick Kocher, Michael Koman, Dave McCary, Brian McElhaney, Dennis McNicholas, Drew Michael, Lorne Michaels, Josh Patten, Katie Rich, Pete Schultz, Streeter Seidell, Will Stephen, Kent Sublette, Julio Torres; NBC Universal
The President Show, Writers: Emily Altman, Anthony Atamanuik, Emmy Blotnick, Neil Casey, Mike Drucker, Noah Garfinkel, John Gemberling, Peter Grosz, Mitra Jouhari, John Knefel, Alison Leiby, Christine Nangle, John Reynolds, Jason Ross, Rae Sanni, Evan Waite; Comedy Central
Weekend Update Summer Edition, Writers: Megan Callahan, Michael Che, Mikey Day, Steve Higgins, Colin Jost, Dennis McNicholas, Josh Patten, Katie Rich, Pete Schultz, Streeter Seidell, Kent Sublette, Brian Tucker; NBC Universal
COMEDY/VARIETY SPECIALS
39th Annual Kennedy Center Honors, Written by Dave Boone; CBS
89th Annual Academy Awards, Written by Billy Kimball, Jon Macks; Special Material Written by Jack Allison, Tony Barbieri, Jonathan Bines, Joelle Boucai, Gonzalo Cordova, Gary Greenberg, Josh Halloway, Sal Iacono, Eric Immerman, Bess Kalb, Jimmy Kimmel, Jeff Loveness, Molly McNearney, Danny Ricker, Joe Strazzullo; ABC
AFI Life Achievement Award: A Tribute to Diane Keaton, Written by Bob Gazzale, Jon Macks; TNT
Michael Bolton's Big, Sexy, Valentine's Day Special, Written by Scott Aukerman, Dave Ferguson, Mike Hanford, Tim Kalpakis, Joe Saunders, Akiva Schaffer; Additional Material Written by Zach Kanin, Claudia O'Doherty, Tim Robinson; Netflix
Nathan For You: A Celebration, Written by Leo Allen, Nathan Fielder, Carrie Kemper, Michael Koman, Adam Locke-Norton, Eric Notarnicola; Comedy Central
QUIZ AND AUDIENCE PARTICIPATION
Hollywood Game Night, Head Writer: Grant Taylor; Writers: Michael Agbabian, Alex Chauvin, Ann Slichter, Dwight D. Smith; NBC
Jeopardy!, Written by Matthew Caruso, John Duarte, Harry Friedman, Mark Gaberman, Deborah Griffin, Michele Loud, Robert McClenaghan, Jim Rhine, Steve D. Tamerius, Billy Wisse; ABC
DAYTIME DRAMA
General Hospital, Head Writers: Shelly Altman, Jean Passanante; Writers: Anna Theresa Cascio, Suzanne Flynn, Charlotte Gibson, Lucky Gold, Kate Hall, Elizabeth Korte, Daniel James O'Connor, Dave Rupel, Katherine Schock, Scott Sickles, Christopher Van Etten, Christopher Whitesell; ABC
Days of Our Lives, Writers: Ron Carlivati, Sheri Anderson, Lorraine Broderick, David Cherrill, Lisa Connor, Carolyn Culliton, Richard Culliton, Rick Draughon, Cydney Kelley, David Kreizman, David A. Levinson, Rebecca McCarty, Ryan Quan, Dave Ryan, Elizabeth Snyder, Tyler Topits; NBC
CHILDREN'S EPISODIC AND SPECIALS
"American Girl – Ivy & Julie" (American Girl), Written by May Chan; Amazon
"American Girl – Knowledge is Power" (American Girl), Teleplay by Alison McDonald, Story by Alison McDonald and Caron Tschampion; Amazon
"Just Add 1965," (Just Add Magic), Written by Lauren Thompson; Amazon
"Meet Julia" (Sesame Street), Written by Christine Ferraro; HBO
The Magical Wand Chase: A Sesame Street Special, Written by Raye Lankford, Jessica Carleton, Ken Scarborough; HBO
DOCUMENTARY SCRIPT – CURRENT EVENTS
"Confronting ISIS" (Frontline), Written by Martin Smith; PBS
"Poverty, Politics and Profit" (Frontline), Written by Rick Young; PBS
"Unseen Enemy," Written by Janet Tobias; CNN
DOCUMENTARY SCRIPT – OTHER THAN CURRENT EVENTS
"Divided States of America" Part One (Frontline), Written by Michael Kirk & Mike Wiser; PBS
"Rachel Carson" (American Experience), Written and Directed by Michelle Ferrari; PBS
"The Great War" Part II (American Experience), Written by Stephen Ives; PBS
"The Great War" Part III (American Experience), Written by Rob Rapley; PBS
"The Vietnam War," Episode Six: "Things Fall Apart," Written by Geoffrey C. Ward; PBS
NEWS SCRIPT – REGULARLY SCHEDULED, BULLETIN, OR BREAKING REPORT
"Obama Wiretap Allegations" (World News Tonight with David Muir), Mark Berman, Barbara Rick, Tom Llamas; ABC News
"September 29, 2017" (World News Now), Written by Matt Nelko, Jack Sheahan, Debbie Humes, Carla Brittain, Constance Johnson, Lloyd deVries, Craig Morancie; ABC News
"White Helmets" (60 Minutes), Written by Scott Pelley, Nicole Young, Katie Kerbstat; CBS News
NEWS SCRIPT – ANALYSIS, FEATURE, OR COMMENTARY
"Chief of Chobani" (60 Minutes), Written by Steve Kroft, Oriana Zill de Granados; CBS News
"Fighting Famine" (60 Minutes), Written by Scott Pelley, Nicole Young; CBS News
DIGITAL NEWS
"At the Capitol With Those for Whom Last Night Mattered the Most," Written by Emma Roller; SplinterNews.com
"Becoming Ugly," Written by Madeleine Davies; Jezebel.com
"The Super Predators," Written by Melissa Jeltsen, Dana Liebelson; Huffingtonpost.com
"Why Did Politicon Make Me Want To Die?," Written by Libby Watson; SplinterNews.com
RADIO/AUDIO DOCUMENTARY
"2016 Year in Review," Written by Gail Lee; CBS News Radio
"Castro, Cuba & Communism," Written by Thomas A. Sabella; CBS News Radio
"CBS Radio 90th Anniversary," Written by Dianne E. James, Gail Lee; CBS News Radio
"Remembering Princess Diana 20 Years Later," Written by Andrew Evans; ABC News Radio
RADIO/AUDIO NEWS SCRIPT—REGULARLY SCHEDULED, BULLETIN, OR BREAKING REPORT
"Hugh Hefner: A Social Revolutionary in Silk Pajamas," Written by Gail Lee; CBS News Radio
"World News This Week November 18, 2016," Written by Joan B. Harris; ABC News Radio
"World News This Week: June 9, 2017," Written by Tara Gimbel Tanis; ABC News Radio
RADIO/AUDIO NEWS SCRIPT – ANALYSIS, FEATURE, OR COMMENTARY
"Chuck Berry," Written by Jerry Edling; CBS News Radio/KNX
"Dishin' Digital on WCBS-AM," Written by Robert Hawley; WCBS
"Holiday Stories," Written by Gail Lee; CBS News Radio
"One Nation, Overdosed: An Investigative Report," Written by Tara Gimbel Tanis; ABC News Radio
PROMOTIONAL WRITING NOMINEES
"CBS Comedy," Written by Dan Greenberger; CBS Television
"The Good Fight," Written by Brian Retchless; CBS On-Air Promotions