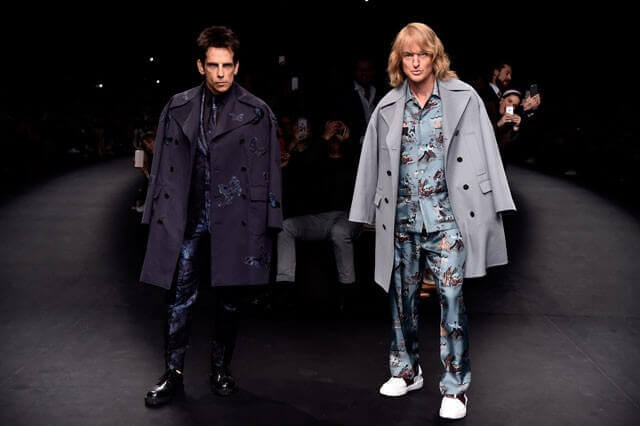 How do you make sure everyone covers the announcement of a release date for a comedy sequel? Paramount Pictures found the perfect outlet for revealing the release date of Zoolander 2 starring Ben Stiller and Owen Wilson, unveiling the release date at the Valentino Fashion Show during Paris Fashion Week. The film's lead characters – Derek Zoolander and Hansel – hit the runway to close out the show while announcing Zoolander 2 will open in theaters on February 12, 2016.
Derek Zoolander (Stiller) and Hansel (Wilson) strutted their stuff on the runway, with Derek wearing a "custom Night Butterflies brocade suit with hand-embroidered overcoat and black Creeper shoes." Hansel was dressed in "a Silk Continent print Pajama suit with Double Cashmere overcoat and Open sneakers."
Justin Theroux is writing and Stiller is directing the sequel which also has Will Ferrell back reprising his role as Mugatu and Penelope Cruz on board as the female lead.
-By Rebecca Murray
Follow Us On: