There's no kicking Clark Gregg out of the MCU. He got killed by Loki in The Avengers but then got his own TV series. After five seasons, Agent Coulson finally did die on Marvel's Agents of S.H.I.E.L.D., but the creators were kind enough to create a new character for him. They just won't tell us who he's playing.
With Coulson gone, Mack is now taking over as director of S.H.I.E.L.D., which is difficult for both Mack and actor Henry Simmons. Gregg and Simmons spoke with us at WonderCon about each of their new roles in season six of Marvel's Agents of S.H.I.E.L.D. premiering on May 10, 2019 on ABC.
We saw you going off to Tahiti with Melinda May. Will we see what happened there at all?
Clark Gregg: "In Tahiti? I mean, on certain adult sites you might see some. (Laughing) Sorry. There may some allusions to what went on there during season six. I wouldn't be at all surprised by that."
Were you surprised how quickly she confessed her love before going off to Tahiti?
Clark Gregg: "I felt like the build-up had been five seasons long. I think they've known each other much longer than that and I think they were both really…I'll just speak for the characters…they were both like, 'All right, enough already.' And also, the stakes had really changed because he had very little time left. I think when you're confronted with mortality, whether it's your own or someone you're close to, it really makes you evaluate what you're wasting time about. So, it's one of the things that I think is moving in that episode is the fact that they got a little bit of time together."
You've played Coulson for five years now.
Clark Gregg: "Off and on."
How did you start to build a completely new character?
Clark Gregg: "It wasn't easy. It was being parsed out to me gradually, so I had to kind of take what I was getting in. I like it that way, but it was mysterious and unsettling. And this is a very, very different type of person is the best I can say. At the same time, there was something really thrilling about being scared again, not sure what to do, not sure what felt right. This guy is in an antagonistic relationship with all of the people who Coulson held most dear, so that also created some dramatic fireworks."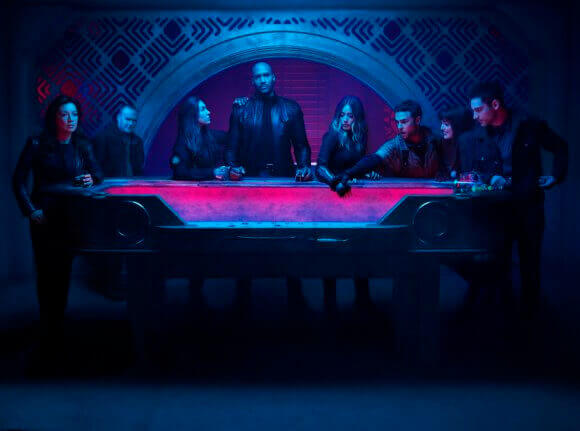 How has Mack changed?
Henry Simmons: "I think Mack has changed in a way where because when he was out in the field with these people there was more of a camaraderie. But now as the director of S.H.I.E.L.D. there has been a distance between him and the others. As much as he would like to maintain that camaraderie, it's not really acceptable in terms of trying to do what's best.
And I will say as a result of that I found as an actor and as a character it's quite lonely. It's lonely because you feel isolated because you're in a position where there's no one else that can relate to it. Except for…I don't know what to say…"
Clark Gregg: "A mentor figure."
Henry Simmons: "A mentor figure that was handed down to each director. And I will stop…"
In the past Mack was typically the heart of the team but now that he's the director who will he rely on as a sounding board?
Henry Simmons: "Well I'm still getting guidance from…"
Clark Gregg: "Your mentor?"
Henry Simmons: "I would say yes. You know, Coulson is still giving guidance to Mack."
Clark Gregg: "He's like a voice in your ear, really."
Henry Simmons: "Yeah."
Clark Gregg: "You hear what he's thinking."
Henry Simmons: "I think they try to develop a thing, and May might be someone who is a sounding board as well."