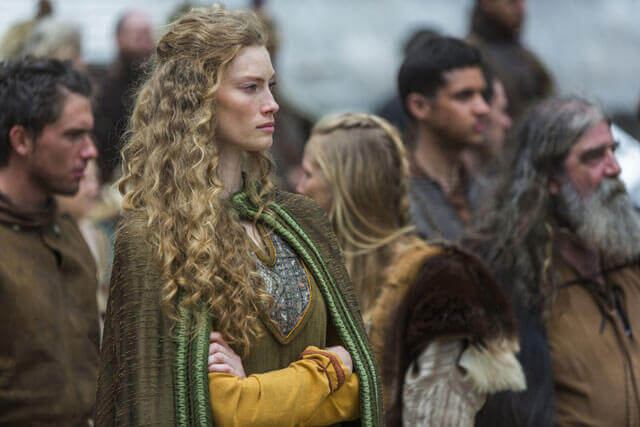 Alyssa Sutherland returns as Princess Aslaug and Ben Robson joins the cast of the critically acclaimed action drama Vikings as Kalf in season three of the series premiering on February 19, 2015 at 10pm ET/PT. Teamed up together at the Television Critics Association winter press event, Sutherland and Robson chatted about the new season and what role Robson's new character plays in Vikings.
Alyssa Sutherland and Ben Robson Exclusive Interview:
What does it mean to you to be on a show where women are pivotal players?
Alyssa Sutherland: "It's amazing. I think it's such an interesting time for TV right now because there are amazing roles for women out there now and available. I kind of have a problem with people saying "strong" female roles because to me they're just female roles. This is what females are like; we're just as complex as males. I think it's so nice that we're finally having a chance to show what real females are like."
What was it like joining this grand production that's now on its third season?
Ben Robson: "It was amazing. I was already a fan of the show so to come in and get to sit there and be around everyone that you sort of love watching on TV was great. The sets are incredible, and it's really quite an amazing project. The cast are amazing. It was a good time."
Who did you geek out over the most?
Alyssa Sutherland: "Me!"
Ben Robson: [Laughing] "Obviously Alyssa. I mean, everyone really. I was sitting around at the read-through on the first day and just watching everyone get into their characters and play, and I just quickly reminded myself that I actually had to do a job rather than just sit there and watching everyone do their thing."
How would you describe your character?
Ben Robson: "I play Kalf and he's Lagertha's second in command and very ambitious. He's loyal to Lagertha but he's ambitious and has his own ideas of what he wants to achieve."
How much of your characters come to you as soon as you put the costumes on?
Alyssa Sutherland: "It's immediate. From the costuming to the sets and the art design, everyone is so real feeling. To me it doesn't feel like a set at all and they're not costumes; it's just me getting transported to the late 8th century and we're there there and it's real."
Ben Robson: "Yeah, I would agree. It just makes it so easy to walk on and be there on the set. It's like you just walk into another world. Everything's incredible from the costumes to the actors to the food, you are in the world when you walk in. They make it very easy for you to go and do your job."
Have you had action training before or did you have a crash course for this?
Ben Robson: "I've done bits and pieces, but I would definitely say it was much more of a crash course coming in and learning how to swing an axe and the rest of it. It was good fun; you want to be around swinging your axe and smashing things. It's good fun."
How heavy are the actual props you work with?
Ben Robson: "So heavy. I had to work out really hard to lift them."
Alyssa Sutherland: "I think I have the heaviest because I've got to lug kids around all the time."
Ben Robson: "You do have the heaviest. And you've got really the more important things, and you're multi-tasking."
Will you be back if there is a season four?
Ben Robson: "Hopefully, it depends if they don't kill me off. With luck I'll be back."
– Also of interest: Travis Fimmel and Alexander Ludwig interview / Katheryn Winnick interview / Clive Standen interview / Kevin Durand interview / George Blagden interview
– By Fred Topel
Follow Us On: