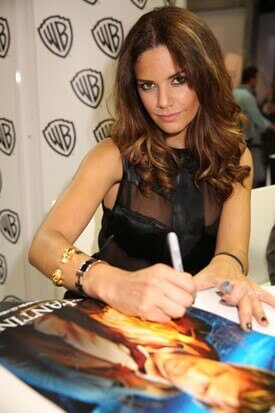 Angelica Celaya joined the cast of NBC's new dramatic series Constantine just weeks prior to the 2014 San Diego Comic, but by the time she sat down for interviews at the sold-out event she'd already been completely immersed in the world of the DC Comics-inspired series. During our roundtable interview at Comic Con, Celaya talked about why she was so excited about being a part of Constantine and what viewers can expect from her character, 'Zed.'
Angelia Celaya Constantine Interview
What was the initial appeal of being a part of Constantine?
Angelica Celaya: "Honestly, the initial appeal is I love the whole dark world between the fight between good and evil. That's the story since we've become a civilization. I love that, and seeing that come to life with DC Comics is amazing. I love Zed. She is someone I can identify with because she is someone who feels more than what she needs to feel from people. And that, to me, I feel myself identity with. I feel myself sometimes…we don't want to admit. Maybe some of you guys have had deja vu or something and seen stuff and you don't want to admit it out loud because people will think you're weirdos. I've had that too, and Zed – I feel myself with her. I feel myself discovering myself within Zed so that to me is extremely appealing."
So that was your entry into the character?
Angelica Celaya: "Honestly, yeah."
How does Zed interact with John?
Angelica Celaya: "It's a tug and push. They don't want to admit that they need each other. They don't want to admit that one is fragile, that they need help. So that's where it is. Zed does need Constantine to show her a couple of things that she doesn't know about that John knows. It's like second nature to him, all these things Zed's barely discovering."
Zed's family in the comics has some issues. Are we going to be seeing any of that in the series?
Angelica Celaya: "I can't say that, but what I can say is there will be a feeling that Zed is running away. She's not stable; she's not normal. You can tell she's running away from something, but we just don't know quite yet how it is."
How is it working with this cast? Have you all bonded already?
Angelica Celaya: "Honestly, I bonded with Matt [Ryan] and then writers quick, and then I'm right now [working with] the other cast members. We're all so into our characters and we love being a part of this kooky family. It's so much energy, so much fun. Everybody loves their characters so it's cool."
Any encounters with comic book fans yet?
Angelica Celaya: "Yeah! We were just out there and even online like on Twitter, they'll give me some information which is always welcome. If someone has information like, 'I know that your character did this…,' bring it on because it only helps. It's pretty cool."
Do you feel any pressure trying to live up to the character from the comics or are you trying to put your own spin on it?
Angelica Celaya: "I'm trying to put my own spin. If I put myself to the pressure that I'm trying to live up to the comic, I'm going to fail. If I give it my point of view on who Zed is, then I'm going to present to the world my interpretation of who Zed is and that's what I want to do. I want to feel Zed is, coming from this person who's from this part of the world with these issues. That to me is keeping a little bit more true to the character than trying to be the perfect character, which I can't."
-By Rebecca Murray
Follow Us On: