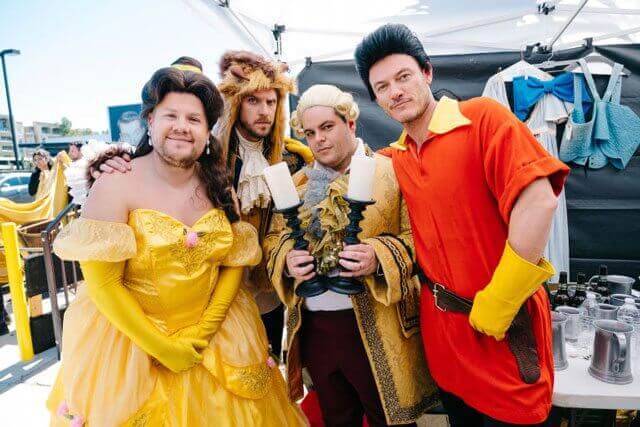 A tale as old as time came to life on the corner of Beverly Blvd and Genesee Ave in Los Angeles as James Corden and company performed key numbers from Beauty and the Beast. The Late Late Show host gathered his company and somehow convinced Dan Stevens (the Beast), Luke Evans (Gaston), and Josh Gad (LeFou) to join them to perform in the intersection in front of CBS' studios during red lights.
Emma Watson wasn't available so it was up to James Corden to don the yellow ballgown and dance as Belle opposite Stevens as the Beast. Quick shots of the drivers waiting at the stoplight showed most were completed confused as to what was going on. However, Corden claimed that the person watching them through his sunroof was actually giving the group a standing ovation.
Beauty and the Beast (the live-action musical, not the crosswalk version) opens in theaters on March 17, 2017.
The Plot: The story and characters audiences know and love come to spectacular life in the live-action adaptation of Disney's animated classic Beauty and the Beast, a cinematic event celebrating one of the most beloved tales ever told. Beauty and the Beast is the fantastic journey of Belle, a bright, beautiful and independent young woman who is taken prisoner by a Beast in his castle. Despite her fears, she befriends the castle's enchanted staff and learns to look beyond the Beast's hideous exterior and realize the kind heart of the true Prince within.
Directed by Bill Condon, the cast includes Emma Watson (Belle), Dan Stevens (the Beast), Luke Evans (Gaston), Ewan McGregor (Lumière), Josh Gad (LeFou), Emma Thompson (Mrs. Potts), Sir Ian McKellen (Cogsworth), Kevin Kline (Maurice), Audra McDonald (Madame de Garderobe), Gugu Mbatha-Raw (Plumette), Nathan Mack (Chip), and Stanley Tucci (Maestro Cadenza).