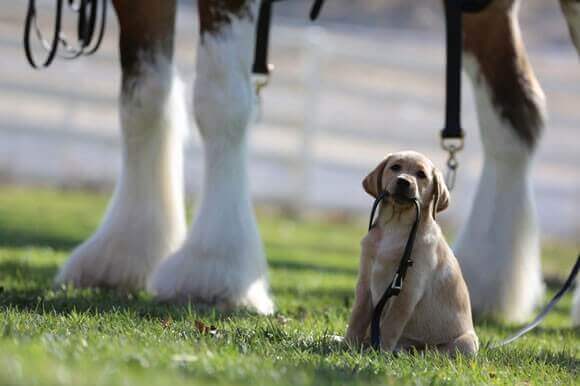 What will likely be one of the most talked about ads of the 2014 Super Bowl has arrived starring the world's most adorable puppy and the Budweiser Clydesdales. Titled "Puppy Love," the story focuses on the special friendship between one very outgoing, fluffy, 10-week-old bundle of energy and one of the iconic Clydesdales. The spot features "Let Her Go" by Passenger and is beautifully shot, with a complete story unfolding in just a minute.
"The Budweiser Clydesdales are an icon of the brand and have become an icon of the Super Bowl as well," said Brian Perkins, vice president, Budweiser. "These majestic horses represent the values of the brand and universal values of trust, quality and nobility that appeal to audiences of all ages."
Don Jeanes returns as the Budweiser Clydesdale trainer and former Sports Illustrated model Melissa Keller co-stars.
Watch the commercial:
And a behind-the-scenes video:
-Posted by
Rebecca Murray
Follow Us On:
Stumble It!