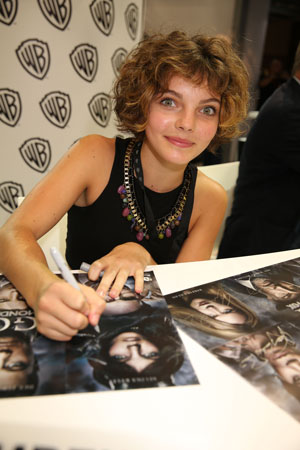 Camren Bicondova has the difficult task of playing a young version of Catwoman in the new series Gotham coming this fall on Fox. Bicondova's tackling the role of Selina Kyle in the series which sets up the world of Gotham's major villains before the appearance of Batman and before Kyle transforms into Catwoman. And at the 2014 San Diego Comic Con, Bicondova opened up about what it's like to be a part of this pre-Batman world.
Camren Bicondova Gotham Interview
How much weight is on your shoulders playing a character like this that everybody has an opinion about?
Camren Bicondova: "There's somewhat a little bit of weight but it's not so much that I feel pressure. A lot of people say, 'How does it feel to be playing Catwoman?' but I'm not playing Catwoman. So the fanboys and even people who don't know but expect something, I'm almost kind of leaving that out of my brain and just being like, 'I'm going to do this because I'm doing a totally different time of her life,' and hopefully people like it and if they don't, it's okay."
Where are you drawing the physicality of the character from?
Camren Bicondova: "I actually have a cat at home, his name is Mr. G and so I watch him a lot."
He's your acting coach?
Camren Bicondova: [Laughing] "He is. I actually when I auditioned had to show cat movements and I actually went on Youtube and looked up 'Cats' the musical for inspiration, so that inspires me a little too."
Is there any kind of physical training you have to go through, like dancing?
Camren Bicondova: "Yeah. I've been a dancer since I was five so that helps tremendously. I've also been taking Parkour classes, so that helps too. I can do some of my own stunts. Most of them, my stunt double has to do them for me but I still like to do a little bit."
How does your mom feel about you taking on this role and doing the physical stunts?
Camren Bicondova: "She likes it. I think she'd rather me be on set doing stuff like that than out in the open. She feels safer with me being on set doing it."
Can you talk about the relationship between Selina and Bruce Wayne in Gotham?
Camren Bicondova: "I think Selina is intrigued by him because they have this similarity as to where they don't have their parents anymore. She doesn't normally have anybody she has anything in common with. I think she likes the fact that even though they live on total opposite sides of Gotham City, they're almost living the same kind of life style in a way. So, I think that's what intrigues her."
Did you read any of the comments in preparation for the role?
Camren Bicondova: "I did. I did, yeah. I don't know the exact names. I just ordered a bunch of stuff off of ebay, to be honest with you, and just read all of them to research. I was watching the Batman show with Adam West to see how they did her."
Is Selina already past the turning point to where she could have been a good person?
Camren Bicondova: "I don't think she's evil yet. I feel like every evil person, honestly, starts in a good place anyway. She's just trying to survive on her own. I'm actually waiting to see for myself what exactly makes her the way she is when she is Catwoman. That's what I love about this job is I'm actually learning about her as we're filming, so it's really exciting."
Have you gotten to work with Ben McKenzie and Jada Pinkett Smith much?
Camren Bicondova: "I've actually gotten to work with Ben, but not so much anybody else. I'm looking forward to it."
-By Rebecca Murray
Follow Us On: