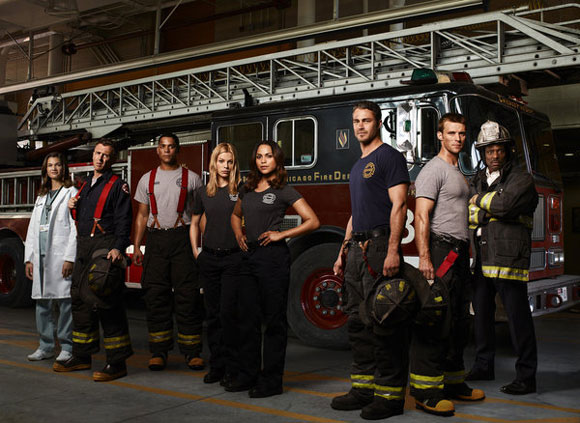 Starring: Jesse Spencer, Taylor Kinney, and Teri Reeves [full cast list under the 'Cast' tab] Series Premiere: October 10, 2012
Genre: Drama
Running Time: 1 hour
Network: NBC
News:
More episodes ordered by NBC
The Synopsis:
For the firefighters, rescue squad and paramedics of Chicago Firehouse 51, no occupation is more stressful or dangerous, yet so rewarding and exhilarating. These courageous men and women are among the elite who forge headfirst into danger when everyone else is running the other way and whose actions make the difference between life and death.
The pressure to perform on such a high level has a way of taking a personal toll, sometimes putting team members from the Truck and the specially-trained Rescue Squad at odds with each other. Despite any differences, this is an extended family, and when it's "go time," everyone inside Firehouse 51 knows no other way than to lay it all on the line for each other. When a tragedy claims one of their own, there's plenty of guilt and blame to go around. Lt. Matthew Casey (Spencer), in charge of the Truck, tries to carry on, but butts heads with the brash Lt. Kelly Severide (Kinney) of the Rescue Squad – and each blames the other for their fallen team member. Adding to the turmoil, Casey, unbeknownst to his colleagues, is in the midst of a separation from Hallie (Reeves).
[tabs style="default" title="'Chicago Fire' Resources"] [tab title="Cast"] Jesse Spencer as Lt Matthew Casey
Taylor Kinner as Lt Kelly Severide
Teri Reeves as Hallie
Eamonn Walker as Battalion Chief Wallace Boden
Monica Raymund as Gabriela Dawson
Charlie Barnett as Peter Mills
David Eigenberg as Christopher Herrmann
[/tab] [tab title="Videos"][/tab] [tab title="Photos"]
[/tab] [/tabs]