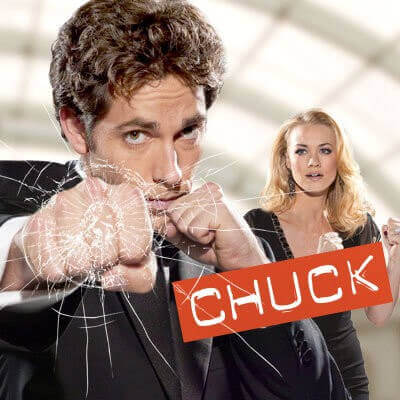 Starring: Zachary Levi, Yvonne Strahovski and Adam Baldwin [full cast list under the 'Cast' tab] Series Premiere: September 4, 2007
Season 2 Debuted: September 29, 2008
Season 3 Debuted: January 10, 2010
Season 4 Debuted: September 20, 2010
Genres: Comedy, action, drama
Running Time: 1 hour
Network: NBC
The Synopsis: Chuck Bartowski (Zachary Levi) returns as a regular guy who also happens to be the government's most vital secret agent. Now that those closest to Chuck know his secret, he must try harder than ever to keep his spy life from interfering with his personal life. But this has never been more difficult — his relationship with superspy Sarah Walker is getting serious, and he's about to take on his most personal mission yet: finding his mother.
[tabs style="default" title="'Chuck' Resources"] [tab title="Cast"] Zachary Levi – 'Chuck Bartowski'
Yvonne Strahovski – 'Sarah Walker'
Sarah Lancaster – 'Ellie Bartowski'
Adam Baldwin – 'John Casey'
Vik Sahay – 'Lester Patel'
Scott Krinsky – 'Jeff Barnes'
Joshua Gomez – 'Morgan Grimes'
Ryan McPartlin – 'Devon'
[/tab] [tab title="Videos"]

[/tab] [tab title="Photos"]Coming Soon
[/tab] [/tabs]