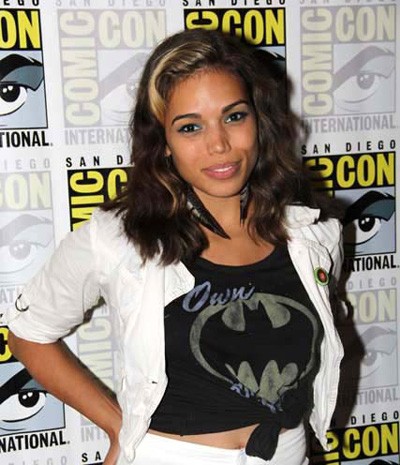 During roundtable interviews at the 2015 San Diego Comic Con, Legends of Tomorrow's Ciara Renee said she couldn't be happier that so many female comic book-inspired characters are being well represented on TV. "I'm loving all the girl power. I'm loving it. I love that there are more heroines," said Renee. "It's so cool to see comments and stuff saying, 'My daughter is so excited to see a female superhero,' because you just don't see it. I think there's such a demand for it now that you're going to start seeing it. Thank the lord! I think it is definitely shifting in a really good way."
Ciara Renee will be playing Kendra Saunders/Hawkgirl when The CW series premieres in 2016, however she says we'll get to know her character a little before Legends of Tomorrow actually debuts. "I think there's going to be a lot crossovers so that when we get to January, you already have some backstory on who everyone is, so you're not just swarmed with all of these new characters. Not 'new' characters but full characters who have all these backstories and all these other things so that you'll be caught up," explained Renee.
In order to prepare for the role Renee has been busy doing her homework. "I've been rewatching all of the Justice League. I've been reading all sorts of comics. They were so nice to send me huge packs that I'm still going through. I'm reading the Thanagarian version; I'm reading the new 52 version. I'm just trying to get as much research as possible," explained Renee. "I don't know what we're going to necessarily be using, but it will be good to know the origins of it."
In going through the research and speaking to Legends of Tomorrow's writers, Renee has a good idea of Kendra's personality. "She's a pretty stoic, kind of badass character a lot of the times, but I think she's also a very conflicted character. I feel like she's always trying to be within herself and not reach out to anybody else, but then I think obviously every human needs that, you know? I think also the conflict is being reincarnated and feeling these other lives and these other memories that are coming up. I think a lot of it is she's just very torn between a lot of different images of who she is," said Renee.
Renee's looking forward to the time travel and reincarnation aspects of the character which comic book fans are also anxious to see on the show. "I don't know how much I can share but I think we're going to definitely be able to tap into who she was in these different time periods because that's what we're doing – we're traveling all through the time periods trying to fix the timeline. So it just seems plausible that we would run into her at some point, so that would be really cool and such a great acting challenge to play all these different people within one," revealed Renee. "It's going to be really cool."
In addition to the reading she's been doing to figure out who Kendra/Hawkgirl is, Renee has been undergoing training to physically prepare for the role. Well, if you see my hands I have a lot of scars already. I started Krav Maga which is an Israeli martial arts, and I've been boxing for a couple of months and I love boxing. It's so fun. But I want to try everything," said Renee. "At this point she knows every fighting style from being reincarnated so many times. She knows everything so I want to try them all and I want to be able to do as many stunts as I can, so we'll see."
Legends of Tomorrow marks Renee's first TV series and she says playing Hawkgirl is the coolest way to kick off her TV acting career. "This is my first TV series and of course I'm a superhero and it's amazing! But also you know I just think being in the hands of such amazing writers who already have two series that are just the bomb. They're so good. I've watched them now and I'm hooked, and I would have been even if I hadn't been a part of this. That's just really amazing. Talking to them, they're really trying to be conscientious about giving everyone their time. You really get to meet every character and know every character intimately so that when we see them working together or not working together, you understand it and the relationships are real and credible. I think that's amazing. It's going to be an incredible acting challenge and I get to work with incredible actors."
More on Legends of Tomorrow: Wentworth Miller Interview / Dominic Purcell Interview
Watch the full interview with Ciara Renee on Legends of Tomorrow:
Follow Us On: