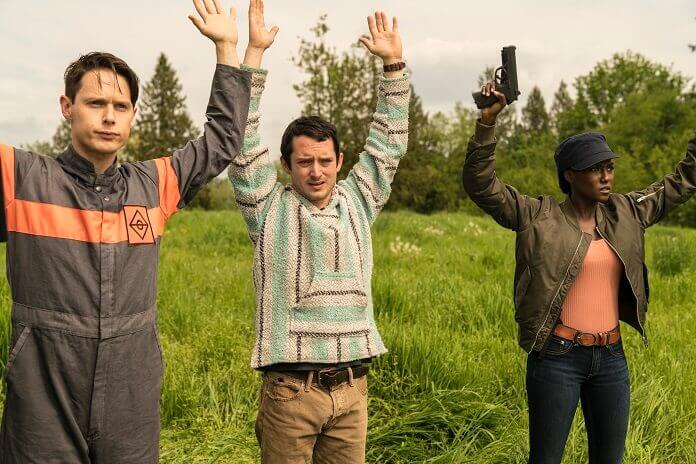 BBC America's crazy, kooky, and immensely entertaining series,
Dirk Gently's Holistic Detective Agency
, will return for season two beginning on October 14, 2017 at 9pm ET/PT. Season one's
Samuel Barnett
(Dirk),
Elijah Wood
(Todd), Jade Eshete (Farah), Hannah Marks (Amanda), Mpho Koaho (Ken), Fiona Dourif (Bart), Dustin Milligan (Friedkin), Michael Eklund (Martin – Rowdy 3), Osric Chau (Vogel – Rowdy 3), Viv Leacock (Gripps – Rowdy 3), and Zak Santiago (Cross – Rowdy 3) are all on board reprising their roles. Joining the series for season two are John Hannah (The Mage), Amanda Walsh (Suzie Boreton), Tyler Labine (Sherlock Hobbs), Izzie Steele (Deputy Tina Tevetino), Aleks Paunovic (Wygar Oak), and Alan Tudyk (Mr. Priest).
BBC America also unveiled the first official trailer for the upcoming season as well as batch of photos from season two and the updated synopsis. The series is based on Douglas Adams' novels and was created by Max Landis who also writes and executive produces. Robert Cooper is the showrunner.
The Dirk Gently Plot: Every season is a dizzying, smart, dangerous, unexpected and (for us, not the people involved) fun adventure that explores a different genre. Season one was about time travel with body-swapping, and this season involves an injection of fantasy. The vast dangers lurking in the fantasy realm navigate a path to Earth, becoming a threat in reality, and it's up to Dirk (Barnett) and the gang to stop them in their tracks. But first – they need to find each other… Everything and everyone continues to be connected… from the sterile chambers of the government organization Blackwing, to the sleepy town of Bergsberg and the magical land of Wendimoor. After a few misfires, Dirk Gently steadily finds his footing on the new case to "find The Boy", and with the help of his friends, makes the necessary connections to solve the mystery before it's too late.