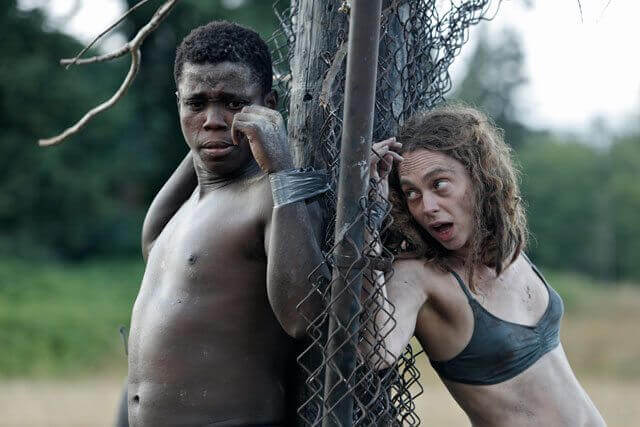 BBC America's Dirk Gently's Holistic Detective Agency will return this fall for its second season, with Elijah Wood, Samuel Barnett, Mpho Koaho, Fiona Dourif, Jade Eshete, and Hannah Marks back in starring roles. In support of the upcoming second season of the critically acclaimed original series, Dirk Gently's Holistic Detective Agency cast took part in a Q&A with fans as well as roundtable interviews at the 2017 San Diego Comic Con. Koaho ('Ken') and Fiona Dourif ('Bart') teamed up to discuss season two, Ken and Bart's evolving relationship, and Max Landis' incredible scripts.
Do you think there was a specific moment when Ken and Bart's relationship evolved into an actual friendship?
Fiona Dourif: "I think I was curious about from the pilot, really, because if he's around me and I haven't killed him that means the universe doesn't want me to. And then I hadn't been around a person for five years, so I think it was gestating from the beginning."
Mpho Koaho: "That's an interesting breakdown. I love how she said that. You can make the argument t she spared me from the beginning. You can make that argument, that's what she did. She could have killed me right away. Knowing the scripts and watching the show, I still don't even know why she didn't kill me right away. Maybe I can get into why she didn't later, but right away I don't know. Regardless if she thought I was Dirk or not, that's not enough for me considering what I saw of this character.
I just think that maybe she wanted to be different. I feel that maybe rubbed off on Ken as well to where maybe he started to see that. Ken's a smart guy so maybe he started to see maybe her lowering her defenses a bit and then maybe that's when Ken started to be less afraid, I guess. Maybe like the second time when she really didn't kill me when we're kind of on that stretch of road. I don't know if Ken stopped being scared but I think he goes, 'Okay, maybe I'm not going to die.' And then I think maybe at that point it starts."
Bart is one of the most original, crazy characters on television that we have seen in years. How much fun is it to just embody that and just go with it?
Fiona Dourif: "It took me a while to find her. I think I sent the tape in three weeks late or something when I auditioned for it just because I was like, 'I know I have to commit.' They kept pushing me. They were like, 'Make strong choices,' and I would kind of jump around my living room and be like, 'Is this garbage? I can't tell.'
But, I found something that felt emotionally true. I knew she needed to be grounded to then make her crazy. Why is she from Jersey? I don't know, man. But I wanted this kind of dirty, kind of masculine quality. I don't know. I'm really proud of it. I also think it's really cool that a woman gets to play it because you dress up in heels and you manicure your hair and you go in and you're sassy cop or sad wife. I was like, 'Bart Curlish that was written for a man?' And they were like, 'No, it's going to be a woman.' I felt really lucky."
There are regular scripts and there are Max Landis scripts. How does the way he looks at the world differ from some of the other scripts you get presented with?
Mpho Koaho: "Well to be fair, he is loco. I'm pretty damn crazy too so it's a very happy marriage of sorts. I'll tell you what. I feel like he has a better understanding of reality than a lot of scripts I've been a part of, shows I've been a part of, characters that have been written for me, Max's understanding of reality I feel like is at a higher level than a lot of writers I've been around, a lot of shows I've done.
You meet the guy and it's like, 'Oh, okay,' but then you read the stuff and you see the way he puts the characters together and the diversity of everything. I see a very realistic painting of the world, so that's why I can say this man has a great conceptualization of reality while maybe coming off like he doesn't. And that's his brilliance; he's a very brilliant man. I always say this, 'Max gets it.' Just look at the diversity of the show, the women in strong roles, you know what I mean? That's a big deal. Max understands that's the world; that's not fantasy. That's the way the world is amidst the craziness of what our show is. It's a really cool dynamic."
Fiona Dourif: "The characters have emotional depth to them. A fan put together this great 10-minute piece on YouTube that said, 'Every character in Dirk Gently is a giant dork and it's amazing.' It is. It's like all the characters are so flawed and insecure, even the strong women are neurotic. It's just like everybody is complicated in the way that everybody is in life. Max is a smart man, and he's an emotionally vulnerable guy which bleeds into his work which is terrific."
Mpho Koaho: "It's very realistic, too, being emotional vulnerable. Humans are that. We are that. We're going to watch the show and not go, 'I can handle all of this.' You're going to feel the emotion of whatever the situation is naturally, and Max puts that on the page somehow. He's very good at that."
Is there still going to be the teaming of Bart and Ken in season two?
Fiona Dourif: (Teasing) "We can't tell you!"
Mpho Koaho: (Laughing) "I go to Krispy Kreme. Ken opens a Krispy Kreme in season two."
Fiona Dourif: "Bart loves Ken."
Mpho Koaho: (Laughing) "I'm just throwing that out there. I don't think Ken's ever been cared for at the level that Bart shows him, the love. I think that's something Ken will hold onto. So, if they come together or not, they will always be one, you know what I mean? They will always be one, I feel like. There will always be that kinship. I feel like we've already established that relationship to where a lot of people who want to see Ken and Bart back together. So, you know, in a perfect world it works out. But, Ken gotta go get that Krispy Kreme business going. It's that five-year plan."
This show is so hard to describe or explain very quickly. What would you tell people who haven't given season one a chance? Why should they watch it?
Fiona Dourif: "I've been trying to condense that one-liner also. I think it's a truly unique show, right? I think there is a mystery involved, which kept me (interested). I just wanted to know how it all fits together. They write it so that everything pays off. I kept telling them when season one was airing I was like, 'I promise you all that stuff is going to make sense at the end.'"
Mpho Koaho: "That's Max again, just knowing what he's doing and his ability to control the storylines."
More on Dirk Gently's Holistic Detective Agency Season 2:
– Samuel Barnett and Elijah Wood Interview
– Hannah Marks and Jade Eshete Interview
– Alan Tudyk and Tyler Labine Interview
– Max Landis and Robert Cooper Interview