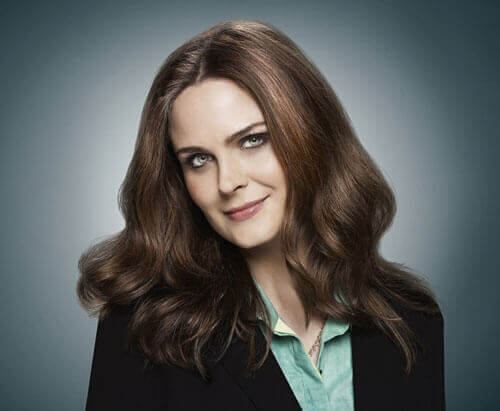 Can you believe Bones is heading into its 10th season? The show's longevity was a major topic of discussion during the 2014 Television Critics Association summer press event, and according to the powers that be at Fox, it appears the 10th season won't be the show's last.
Snagging a little time with Bones star Emily Deschanel, we discussed what it's like to be on the long-running show.
I remember when you got the pick-up last season and people assumed it would be for the final season, but it sounds like the network hopes you keep going. So, how does that feel?
Emily Deschanel: "It feels good, you know? I mean, I hope that it can continue. I feel like we still have stories to tell. I really enjoy working with the people that I work with and playing this character. You come to love the character. I love the character I play and other characters, so I want to see what happens with them. I would love to see it continue, if possible."
How's it feel to be in the 10th year and still feel like there are more stories to tell?
Emily Deschanel: "It's insane. But at the same time I'd feel weird if it was final, too. It just kind of feels like we're not completely done, but whatever ends up happening I'll honor that. I'm so thankful just to have had the experience I've had so far with all of these wonderful people, so I feel like I'm in an amazing place."
Could you have imagined where Booth and Brennan would go in the beginning?
Emily Deschanel: "I couldn't imagine anything. It's just insane. When I got the show, three years is the longest I could possibly imagine it going for. So for it to go for 10 seasons it's insane. It's a whole decade of my life!"
What are some of the cool mysteries coming up?
Emily Deschanel: "Well, when we come back Booth has been in prison for like four months and we're very concerned about him because a Federal Agent in prison is not going to do well. People try to kill him in there. So we're definitely trying to get him out of prison however we can. All the people at the lab and also Sweets from the FBI, but the FBI is against him now too because they still think that he murdered three of their agents. So we're kind of in a terrible place. We have this conspiracy that we have some information on, so we're trying to use that to get to the bottom of things and understand who's behind the conspiracy, how we can solve it, and also how we can get Booth out of jail. It's a lot."
Are we going to find out Booth's encountered some people he put in jail?
Emily Deschanel: "Yes. He is going to encounter people he put there, people who want him dead inside prison, and the prosecutors are trying to keep him in there as long as possible – or the powers that be are trying to keep him in there as long as possible delaying his trial because they want him in there because they think he's going to get killed in there anyway."
What have been some of your favorite mysteries of the first nine years?
Emily Deschanel: "There was an episode about somebody who Brennan kept thinking was like herself and really made her see her own life in a different light. […]We had fun with the circus episode, and stuff like that."
– By Fred Topel
Follow Us On: