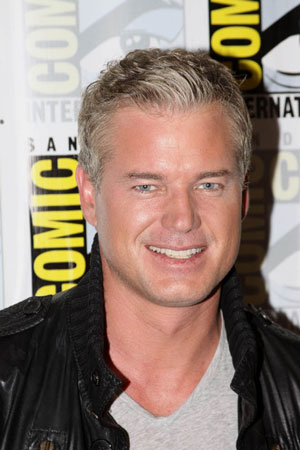 If you haven't yet caught on to TNT's The Last Ship, you're missing out on one of this summer's best written new television dramas. Leading the cast is Eric Dane, a veteran of television drama having starred in Grey's Anatomy prior to signing on to The Last Ship. Dane joined his fellow The Last Ship cast members at the 2014 San Diego Comic Con to discuss the dramatic series about a Navy ship that could be the last hope in a battle against a virus that's wiped out much of the Earth's population.
The Last Ship airs on TNT on Sunday nights at 9pm ET/PT.
Eric Dane The Last Ship Interview
What can you tease about what's coming up for Captain Tom Chandler?
Eric Dane: "Well, we've got to test the vaccine on the monkeys we just collected. The Russians come back. We've got dissension amongst the ranks. Then we have the series finale which is off the charts."
So it's ending with a cliffhanger?
Eric Dane: "Oh yeah. Major cliffhanger."
Can you talk about being on the ship?
Eric Dane: "I mean, being on the ship you're right there. You're on the actual ship. Not a lot of acting to do when you're on the ship. You're just immersed in it. The toughest challenge for me is because the corners are so tight, the geography of the ship is so tight that sometimes the acting can get a little stilted. So we try to stay loose and stay away from that, but it's pretty tight on those ships. Those P-ways are pretty narrow and I've hit my head a couple times on the ceiling."
Have you gotten any pointers from anyone in the Navy about being a Captain?
Eric Dane: "No, they actually think I fit the role pretty well. They did give me some sh*t about my salute. My salute wasn't perfect there for a second, but they straightened me out."
Did you do a lot of prep?
Eric Dane: "I just put the uniform on. The rest took care of itself."
What elements of the story attracted you to this show?
Eric Dane: "Well, first of all, it was a Michael Bay show and the action genre has always been intriguing to me. I read the script and aside from it being whatever it is, virus, action, drama, no drama, it's some of the best writing I've ever read. So, they've created a healthy sort of arena for action, storytelling, and a nice balance and forum for character development. And that's always good with a TV show like this. You don't always find character development synonymous with action, but in this particular show I think we do a pretty good job of letting you know who these people are."
Going into season two, is the relationship with Dr. Rachel Scott going to lead to something?
Eric Dane: "I don't think so. I don't know. I don't think so. I mean, I still have a family out there so Chandler's not…I think this primary mission is the mission and to take care of his crew. I don't know if there's going to be any romantic endeavors in there for him."
Were you actively looking for a new television project?
Eric Dane: "I was. Looking for something and having something become available to you are two different things. It was just kind of the perfect storm of opportunities in that this project came up at the right time. It was three weeks after I'd wrapped Grey's when this all happened, and it just was something I couldn't pass up. So I'd like to say I was sifting through a bunch of scripts looking for the right one. It just didn't happen that way. It just kind of unfolded perfectly and was just kind of the perfect storm of circumstances that led me here."
What's been the best part of playing Tom Chandler?
Eric Dane: "Oh, it's all good. It's all good. I love this character. This is the best character I've ever been able to play. I love him."
What qualities of his do you admire the most?
Eric Dane: "I think he's honorable, he's sincere, he's just, he's fair, he's principled. He's a bit of a maverick at times. He's got a dry sense of humor. He's all the things that are fun for an actor to play."
Have the Grey's Anatomy fans followed you to The Last Ship?
Eric Dane: "I think so, yeah, I think so. I don't know if this show is the same audience as the Grey's Anatomy audience, but I'm pretty sure some of my fans from that show have crossed over to the dark side."
Did you know Rhona Mitra was going to be on the show before you signed on?
Eric Dane: "I'd worked with Rhona years ago on a TV show for ABC called Gideon's Crossing. I was the first one cast [on Last Ship]. I didn't know she was going to be on the show. […]I didn't find out that she was working on this until literally a couple days before we were heading off to shoot. Because I was cast, then they had their process of filling out the other roles and rounding out the rest of the cast. I don't know when she came aboard but I found out from the director that it was going to be her."
How much interaction do you have with producer Michael Bay?
Eric Dane: "He was around for the pilot a little bit. He shot some of the action sequences. He may direct an episode next season."
-By Richard Chavez
Follow Us On: