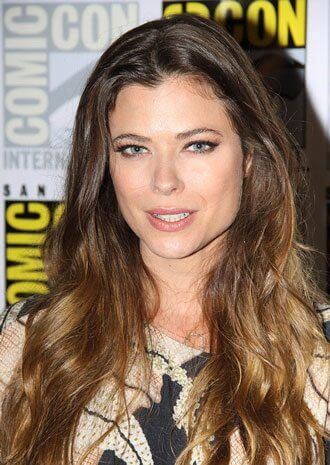 The CW's revisiting the popular film Frequency, released in 2000 and starring Jim Caviezel and Dennis Quaid, with a new series featuring Peyton List and Riley Smith. In a gender-swap, List takes on the role Caviezel played while Smith is on board in the series' version of Quaid's role from the feature film. Frequency will premiere on October 5, 2016 at 9pm ET/PT and in support of the show's upcoming debut, List and her co-stars presented info on Frequency during the 2016 San Diego Comic Con. List also discussed the series during roundtable interviews, saying she's excited for audiences to get to know the characters. "I hope they take to them. I think that they're relatable people," explained List. "I think they're pretty ordinary people that just doing their best to live life. They're trying to succeed at life. Sometimes it's not always pretty but that's life."
The Plot: "Detective Raimy Sullivan (List) has always wanted to prove that she is nothing like her father. In 1996, when Raimy was eight years old, NYPD Officer Frank Sullivan (Riley Smith) left Raimy and her mother, Julie (Devin Kelley), behind when he went deep undercover, got corrupted, and got himself killed. Or so the story has always gone. Few people knew about the secret undercover sting operation Frank was really charged with, led by Stan Moreno (Anthony Ruivivar), who has now risen to Deputy Chief of Police. Frank's former partner, Lieutenant Satch Reyna (Mekhi Phifer), is now Raimy's mentor and friend, and he has urged her to let go of the hurt and anger she still feels about Frank's disappearance and death, but the old pain still lingers. Raimy can barely bring herself to discuss Frank, even with her devoted boyfriend, Daniel (Daniel Bonjour), or her childhood friend, Gordo (Lenny Jacobson).
Now, twenty years later, Raimy is stunned when a voice suddenly crackles through her father's old, long-broken ham radio – it's Frank, somehow transmitting over the airwaves and through the decades from 1996. They're both shocked and confused, but Raimy shakes Frank to the core when she warns him that the secret sting he is undertaking will lead to his death. Armed with that knowledge, Frank survives the attempt on his life. But changing history has dramatically affected Raimy's life in the present – and there have been tragic consequences. Separated by twenty years, father and daughter have reunited on a frequency only they can hear, but can they rewrite the story of their lives without risking everyone they love?"
Peyton List Interview:
Did the fact that they switched up the gender appeal to you, not just because you could play the part?
Peyton List: "Yeah, it did. It did really appeal. It's funny. When you stop and think about it there aren't a ton of those father and daughter relationships being portrayed on TV right now. I think it's kind of special that we get to explore it. I think it really appealed to me because you really see who they truly are. You see them at their worst, you see them at their best. I think the fact that they're trying to relate as people that are the same age but they're related – one person has to be the parent and one person has to be the child. Is that always Frank being the parent and Raimy being the child or does it switch? Who are you at your core? There's a lot of things that appeal to me about it."
So when her second set of memories come up is that kind of like what you deal with as an actor because you get all of their backstory memories plus your own?
Peyton List: "Yeah. I mean sort of the same thing, especially when you do shows that give you backstory as you go along. You can be four episodes into a show and they're like, 'Oh, by the way this is what happened when you were 10.' And you're like, 'Oh…didn't see that coming but I was playing it all along, I think.' You do have that sort of with this show the memories hit you as you have in real time changed, in 1996 as it changes. I think the memories come when they come. You recall it when you recall it. I feel a little bit bad for Raimy because I don't know how overwhelming that is but it's a really interesting concept."
You and Riley Smith are playing a different dynamic than you'd expect, playing father and child rather than brother and sister. Can you talk about that?
Peyton List: "Well it's interesting. Having known Riley for 10 years – I've also known him through so many different phases of his life as we grow as people. When he initially read this show he was in love with it. Like, 'It's the one!' I was excited for him because it's a new chapter for him to play a father and to take on that role. You know, for us it was a huge benefit of knowing each other and working on all these auditions that we work on together, breaking scripts down together and all this stuff, we are so comfortable being vulnerable and being like you are with a family member because that's what Raimy and Frank have. They kind of are who they are and they say what they think. I think that's not like a wall that we have to break down, Riley and I. It's already down. So, I think that helps. I think that helps the chemistry. I feel so safe with him. I feel like I totally trust him as an actor and I hope he feels the same way."
If you had the opportunity to travel to another time or communicate with someone, who would you talk to or where would you go?
Peyton List: "I don't know where I'd start. I don't even know where I'd start. I would do it, and I've seen enough of the things where you're going, 'Don't mess with time! You can't be seen. You can't breath.' But I'd totally want to do it. I would just want to see all over the world at different time periods, different forces in history. You know, like dynasties rise and fall. The Roman Empire. I would just do everything."
Would you go back to 1996?
Peyton List: "'96 was an okay year for me. School was kind of getting hard at that point. I don't know. I remember liking music. I should never wear those clothes again. It was a bad time for clothes for me. A lot of like velour and white stripes and platform Sketcher shoes or something. […]1996 I think for all of us is a bit more accessible. In the original movie it's 1969 and I know what the '60s are but I don't have access to it like I do with 1996. I'm like, 'Oh yeah, I remember what was the number one hit on the radio back then.' Don't ask me – I don't actually know."
Watch the full Peyton List interview:
(Interview by Fred Topel. Article by Rebecca Murray.)