Camren Bicondova was among the Gotham cast who appeared at the 2018 New York Comic Con to discuss the series' fifth and final season. Bicondova's Selina Kyle was in critical condition last we saw her in season four, and in season five she'll be attempting to recover from the trauma of Jeremiah's attack, both physically and mentally.
During roundtable interviews at the NYCC, Camren Bicondova provided an inside look at what's in store for Selina during season five. Fox has set a January 3, 2019 premiere date for the gritty comic book-inspired series' fifth season.
Anything shocking and surprising coming up in the life of Selina?
Camren Bicondova: "Well, when we find her in the first episode, she's in a really dark place. She's paralyzed. She's told that she'll never be able to walk again, so she doesn't want to live. I mean, quite frankly, everything that her life is based around is her physicality, is being able to do things. We find her in a very broken place in the first episode.
It was really hard for me to shoot, and we just get to see this really broken soul this season. We get to see her as a human, even more so than we already have which I'm super excited about because it's super necessary. It's a super important conversation to have. The things that I've gotten to do as an actor and the things that I've gotten to see through Selina are really, really cool this season."
What have you learned from Selina after all these seasons?
Camren Bicondova: "I've learned a lot about self-worth through her and everything that really embodies self-worth. You know, confidence and really loving yourself and being aware of everything around you. It's kind of weird because at this point Selina seems like part of me. She's just been a really great guardian throughout the last five years and person that I could literally find within myself. She's super strong and she's just an impeccable person. Regardless of what anybody says whether she's an inside hero or a villain or a hero, she has a good heart. Ultimately, that's what really matters in a person. That's what she's really inspired me with.
People come up to me and say I inspire them, or Selina's been a big part of their life. But they have no idea how much of a savior she's been to me."
Her relationship's changed with Bruce and she's going through hard times. Who does she turn to this season?
Camren Bicondova: "When you're in a state of depression it's a very lonely place, even if you have people there to support you. So, Bruce has been by Selina's side since she's been in the hospital but she still feels very alone. She still feels very much like she has felt her entire life which is this lone wolf. She really has to dig deep and really understand that she is even stronger than she's thought she's been from time to time.
So, ultimately this season isn't really about her depending on other people to help her but really making this strength that she's never had before. And, also, giving into this darkness, unfortunately. But she doesn't really depend on anyone and that's really her downfall this season."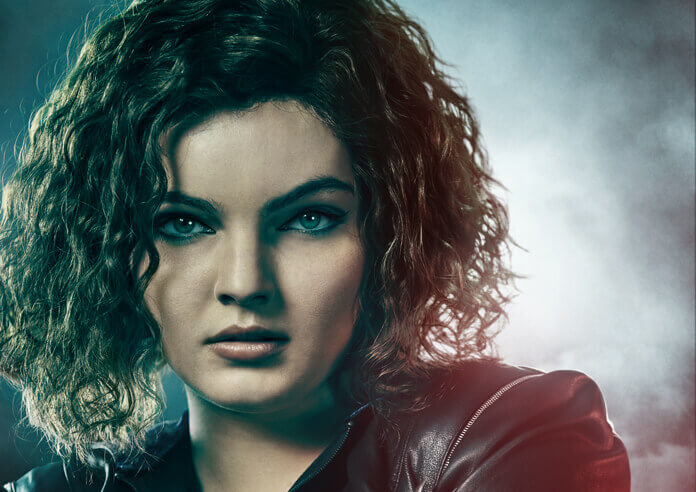 Since it's the last season, did you have any conversations with the executive producers about anything you did want to play? Or did they tell you anything you were surprised about in terms of what you saw in the scripts?
Camren Bicondova: "I did tell them that I wanted to have a fight scene where she lost, because we'd never seen that before. She always wins. That ended up not happening. But I just didn't know what to expect going into this season because the last season ended with such a huge question mark that I was just like, 'All right, Camren. You're going to do what they have written. You've gone through the stuff. You're ready. You can do this. Whatever it takes, just do it.'
Ultimately, that's just been the best part of this season. I purposely don't look at the scenes before I go into rehearsal. Everything's been a surprise."
Other than this Selina, what's your favorite version of Selina?
Camren Bicondova: "Ultimately, Julie Newmar I think is my most favorite. There's actually a scene where…I had a scene with Robin (Lord Taylor) and I paid homage to Julie Newmar in my own way. It was super, super fun. Her sensuality, her physicality, everything about her… Her elegance. If you've ever seen her interviews, she is an elegant and eloquent speaker and it really reflects out of her work. I'd say she's one of my favorites."
What kind of ending do you expect for Selina?
Camren Bicondova: "I don't know. I spoke to John Stephens and I just said, 'I want to show as much respect to her as possible. I want to give her justice.' The ending that I think I'll have, I'm pretty sure that will be the right thing to do. But ultimately, I just want to give her as much justice and respect as possible, and eventually just allow the legacy to go on. I'm just really excited."
The final episode will have a 10-year time jump. Can you think of an actress you'd like to see portray an older Selina?
Camren Bicondova: "I have an idea. Yeah, I do. I don't want to share it. I think anybody, any female actor who's chosen to play the older version of Gotham's Selina, I think there's a lot of respect in this universe. When I say respect, I mean respect for the characters. I think anybody who plays her will do her best and will do the way she should be played. I have an idea of who I would want to play her as a 26-year-old…27, 28…and I think that who I have in mind, she'll do a great job."