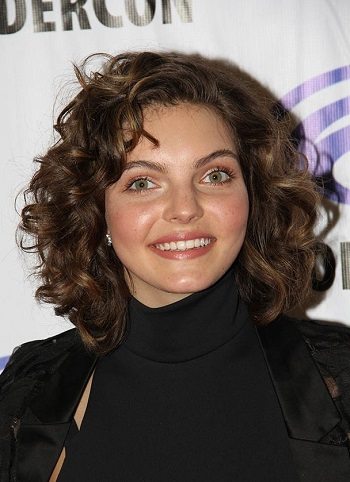 Fox's Gotham will continue season three on April 24, 2017 with episode 15 titled 'How the Riddler Got His Name.' With the series about to return, the cast made the trek to the 2017 WonderCon to talk about what's in store for the remainder of the third season and for Bruce Wayne, Selina Kyle, and Edward Nygma in particular. In addition to taking questions from fans during the Gotham panel, the cast, including Camren Bicondova who plays Selina in the comic book-inspired series, participated in roundtable interviews. In our interview, Bicondova discusses Selina's relationship with Bruce, how Selina's mother's betrayal affected her, and who she'd like to see Selina Kyle spend some time with in the future.
Camren Bicondova Interview:
What can we expect to see for Selina in the upcoming episodes? Will there be more relationship stuff or is she on her own?
Camren Bicondova: "It's a mix of both. In the spring premiere, we see the aftermath of the 'break-up' between Selina and [Bruce]. They were never really official! The only person who thought it was official was Bruce [played by David Mazouz]. Selina doesn't like attachments; she's all about no strings attached. So, we see the aftermath of that in the spring premiere and then after that it's Selina trying to find her way through this teenage angst of not knowing what she wants. And, that's it. That's the basis of it."
Will she figure out what she wants?
Camren Bicondova: "No. But she will take a step that will guide her to knowing what she wants."
Selina's relationship with her mother is non-existent…
Camren Bicondova: "Or, it's existent in a very heartbreaking, awful way."
How does that play into Selina's behavior for the rest of the season?
Camren Bicondova: "We saw in that scene…it was one of the last scenes of that arc where she figures out that her mother used her for a scam, and the mother's boyfriend comes in and Selina pulls her knife on him and is about to kill him. She pulls herself out of it and she tells her mother, 'Don't ever come back.' And I think it definitely propels her to this place of darkness, not necessarily this place of villainy but it does put her in this place of again trying to find herself. I think her situation with her mother really tears her apart and she doesn't want it to. I think that that's what really pulls her into trying to figure her life out. It's really the basis of it, you know?"
Will we see Selina working with Tabitha this season?
Camren Bicondova: "I didn't get to work a lot with Jessica [Lucas] this season. I really didn't get to work with her at all. But I think towards the end of the season we'll see how Selina's confusion will lead her towards that future mentorship."
Has this been the most interesting season for you to play Selina?
Camren Bicondova: "I think so, yeah. Every season has been really great, but I think this season has been much more of a roller coaster for Selina whereas the past two seasons she was kind of coasting. She was kind of milling through people's business whereas this season she was focusing on Bruce and then focusing on herself and then her mother came along. Anything that has to do with family always brings out vulnerability in anyone and so for that reason I would say that this season has been the craziest and most fun to work on."
We've heard there's a big battle coming up that will find everyone working together. Can you tease anything about that?
Camren Bicondova: "Selina always has some shenanigans going on."
She likes to work the different sides.
Camren Bicondova: "Oh, yeah. It's the same thing with Bruce. She doesn't like attachments, but she will do what she needs to stay alive."
How much more fun is it to play an anti-hero than a straight superhero?
Camren Bicondova: "It's way more fun. I consider myself a very kind person in real life and I'm very much a square in that when my friends like to go to a party, I want to stay home with my cat and make some cookies – and maybe binge-watch a TV show that I haven't watched. And, Selina's very much the opposite of that. She loves being out and figuring things out. She's very much a problem-solver. I would say that the similarity that we have is that we're very nosey. I know everything that's going on, but not everybody knows that I know what's going on. That's the same thing with Selina. So, in that case it's much more fun playing a villain, because they're much more complex, too. At the heart of it, every villain has either once been a hero or is genuinely a hero and is just treated awfully by society or their peers."
Is there anyone you're hoping Selina gets to get a little closer to, besides Tabitha?
Camren Bicondova: "I've always thought that it would be cool to have an attraction with Jerome. I'm not saying necessarily a friendship or have an arch-nemesis or anything like that. I think that would be really cool because Cameron Monaghan's amazing. He's so talented."
It would be a cool connection between the two of them.
"I think so too because they're total opposites. She's very grounded and he's all [high-strung]. I think that it would be more of a funny interaction than a brutal one because she would just look at him like he's stupid. You know, like, 'What's wrong with you?' Just chill. Just child, dude.'"