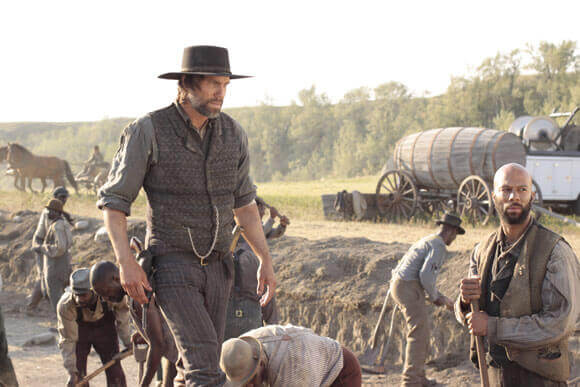 Reviewed by Kevin Finnerty

"Don't you believe in a higher power?" "Sure. I carry it right here on my hip." That's the dark, mysterious former Confederate soldier Cullen Bohannon (Anson Mount) heading out west to find work building the railroad in 1865 in the post-Civil War Western drama, AMC's Hell on Wheels.

Bohannon's true quest is not to find honest hard work to make his fortune like the two traveling Irish immigrants he's met on the train. In fact, he's on the trail of the men responsible for his wife's brutal murder. He successfully finds work on the railroad headed by Thomas 'Doc' Durant (Colm Meaney), an overbearing businessman/investor who seeks to become even more rich and powerful from the railroad. He also meets a recently freed slave, Elam Ferguson (Common), trying to find his place in the world.

Hell on Wheels "The Pilot Episode" is a gritty, violent, heavy-handed beginning to what seems to be an unoriginal and formulaic take on the classic American Western. Anson Mount's gunslinger character bent on revenge is a weak impersonation of the "Man with no Name" that Clint Eastwood defined so wonderfully in the 1960s spaghetti Western films. Colm Meaney is both over-the-top and unbelievable as the corrupt businessman intent on owning the railroad and its riches. He delivers a horribly over-acted performance.

The writing is extremely weak with boring, at times silly dialogue which only helps make scenes seem even more forced and unrealistic. There's also no real flow or pacing with the show, with many scenes going back and forth with almost no connection with what came before it.

Uneven and uninspired, Hell on Wheels is a television saga that doesn't capture the grandeur and adventure of the wild west but rather delivers a slow, tedious and bleak untamed west which will have the viewer reaching for a John Wayne or Clint Eastwood DVD western to watch instead.

D+

Hell on Wheels premiered on AMC on November 6, 2011.