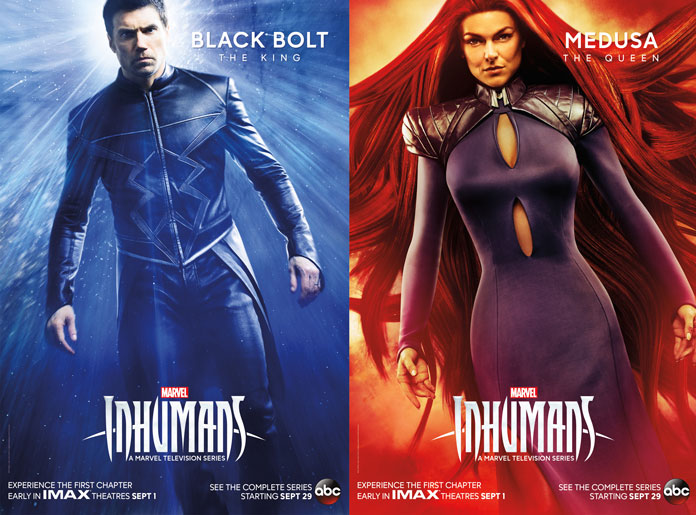 Marvel's Inhumans debuted new footage at the 2017 San Diego Comic Con that showed Medusa's hair with CG effects as well as Black Bolt's special sign language. Teamed up together for roundtable interviews, Anson Mount and Serinda Swan discussed those aspects of their Inhumans characters as well as how they worked together to make sure they were in sync as husband and wife on screen.
ABC's Marvel's Inhumans is set to premiere on September 29, 2017.
How difficult was it to figure out how to play Black Bolt?
Anson Mount: "The actual creation/translation part of it wasn't that difficult because it's me making it up so I'm just doing whatever is intuitive to me. Getting it into the muscle memory of my body so that I can actually pay attention to my fellow actors on set, that's a learning process. As well as learning to let go of the mind-mouth connection and turning it into a mind-hand connection. I legitimately felt the difference between the beginning and the end of the season. It's a little bit like learning to operate a horse on a set. Part of your brain is paying attention to what (the horse) is thinking so that you can actually do a scene at the same time. It was a little like that. It's a skill, just like anything else."
Is there consistency to it? Is it its own language?
Anson Mount: "Would you like to see my glossary on Google docs?"
Serinda Swan: "He would send me videos every night of his monologues. I would get the video and I would learn. You'll see when you watch the show, you'll see there's a word for humans. And, it's not just like the basic words. There's words for like, 'And then we went over here and sat down.' It's all there. It's incredible to see it."
(Anson Mount points out his Google docs on his phone – video at 3:01.)
Anson Mount: "There's my glossary. I kept it over the course of the whole season. I would make my videos the night before and send them to Serinda."
What can you tell us about the Medusa effects?
Serinda Swan: "It is such a huge thing that they're taking on. I don't think they've ever had to do human hair in that capacity, so they were just like, 'Be patient.' Double Neg did it and (Anson) was saying they did the wolves in The Grey and they are incredible. They are absolutely incredible. So, I just had to trust and I had to learn how to 'hact' – which is hair act. Like, 'What is normal?' It's a limb, right, so for the simple things when we're sitting and talking, I'm not going to sit and talk and have a sip of coffee and go, 'Coffee…drink.' (Overemphasizing concentrating on picking up the cup.) So, it was finding the normalcy of what she's grown up with and having Serinda take that on.
And then when it came to be fighting, I really used it as another limb. So when you fight, everything kind of pulls up and tightens. When that happens, I had to figure out just how to do that just with my body and my spine. And then trust that they're going to have your back, literally, and build something around that that moves. So, on set I would move my hands a little bit. I saw it last night and was blown away and so excited because it's such a huge part of her. I was so happy."
Anson Mount: "You were great. You did exactly what you said you wanted. You could tell you were aware of what was going to be happening in post, but you were letting it do its thing. I would have been eyebrow acting all the way."
Serinda Swan: "I was trying not to! Like the first time, I stood in the mirror and I was like, 'Okay, angry hair.' (Makes a mean face.) 'No, that's angry face.' 'Okay, angry hair.' (Less angry face.) 'Okay, we're getting there.'"
Anson Mount: "See, when I sign, I have to keep myself from moving my mouth. Sometimes my mouth will (grimace) because it wants to talk."
Serinda Swan: "It was such a cool experience."
Watch the full Anson Mount and Serinda Swan Inhumans interview:
(Interview by Fred Topel. Article by Rebecca Murray.)