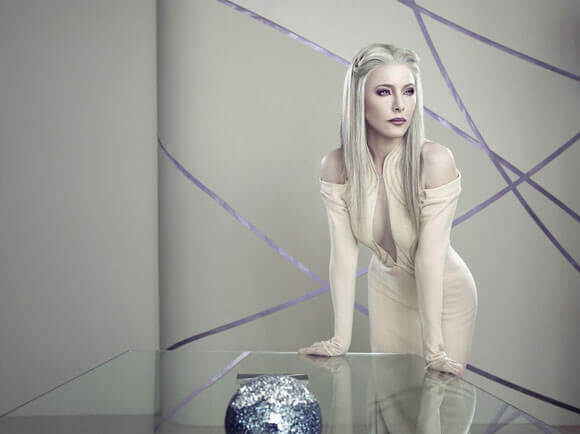 Jaime Murray reprises her role as the manipulative 'Stahma Tarr' in season two of Syfy's hit series Defiance premiering on June 19, 2014 at 9pm ET/PT. And while viewers might label Stahma a villain, Jaime Murray refuses to view her character that way and instead sees her as someone who does whatever it takes to protect herself and her family.
Some people compare your character to Cersei Lannister in Game of Thrones. You're both so calculating…
Jaime Murray: [Laughing] "I'm lucky enough to play this alien and sometimes as an actor you're really happy when you have these impulses come up because they're natural and they're organic, and you want to follow them. And every now and then I'll have a human impulse and I'll be like, 'Well, that's a human impulse. Okay, how do I now make it other? How do I make it alien?' She wouldn't necessarily have the same motivations as a human being, and that's kind of scary not to know.
There's that wonderful moment in The Life of Pi when the father teaches the son that a tiger is a tiger and not to put his hand in the cage because no matter how lovely that tiger looks, it's going to eat that hand off. She's a little bit like that."
Is there a particular trait of Stahma's that you consider your favorite?
Jaime Murray: "I don't know what my favorite trait of hers is yet. Maybe I haven't discovered it. But I think she's highly intelligent and she's empathetic enough that she's almost psychic. She knows what other people need and want, maybe even better than Kenya [played by Mia Kirshner] did. She really has an understanding of psychology and how best to use that to manipulate and get what she needs. She's always one step ahead and that's interesting. She's very 'held'. I feel as though in some ways she's like a masked lady and one of the things I enjoyed was there were moments in the first season when the mask slips…not that many. And I'm quite excited to see maybe that mask slipping a little bit more as she gets out of that cage I was talking about. I think men do put women in a cage. It'll be quite interesting to see what it's like for her when she takes a step outside that."
How would you describe Stahma Tarr? Do you view her as a villain?
Jaime Murray: "I mean it's like the scorpion and the frog, isn't it? The scorpion's a scorpion, and you're not going to be like, 'You're a bad scorpion.' It's a scorpion nonetheless and it's going to sting you. I don't know. I'm playing the character so I'm very biased. It's for you to say whether she's a villainous or a good character. For me, I can't judge my character and play her. I have to be like the best lawyer I can be for my character, otherwise I'll just be a caricature. I have to think about all her motivations, whether it be protecting Alak [played by Jesse Rath] or protecting Datak [Tony Curran] from himself because he is so impulsive. He is so caught up in his own ego that he could make a rash decision that could tear down our whole family, and Stahma is much more about the long game. But I don't think she ever does anything… I don't think I've done anything so far just because I wanted to – like, I wanted to pull the legs off of a spider. Everything I did was because I had to do it. I don't know if that's good or bad."
Do you keep track of all the storylines of the characters Stahma doesn't have to be involved with?
Jaime Murray: "You need to kind of know what's going on. All these characters are so different. There are like seven different species, you know, so you can really delve into your own world and that was what was quite wonderful for me about this TV show. I don't actually like watching myself as an actor. I don't know if you've ever heard yourself on a recording leaving a message. You hear your voice and you're like, 'Ugh! Is that what I sound like?!' Well, seeing yourself on television is like that on crack. [Laughing] But it was so great for me because it's such an ensemble piece. Obviously I read the scripts; we have the read-through and then everyone goes off and does their bit. So I was able to watch it and become immersed in the drama of it. And then when I came onto the screen, I was so unrecognizable to myself that I was able to enjoy it. I really enjoyed the first season."
-By Rebecca Murray
Follow Us On:
Stumble It!