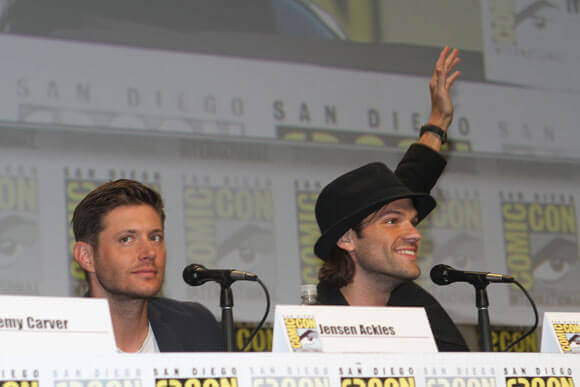 Can you believe those Winchester boys have been hunting demons and other otherworldly creatures for nine seasons? Season 10 of The CW's hit series Supernatural kicks off on October 7, 2014 with a promise of a return to the type of storylines that made the show a must-see in the first place.
The cast and writer/executive producer Jeremy Carver were once again big draws during their Q&A with fans at the 2014 San Diego Comic Con, and the press room was also packed with members of the media eager to discover what's happening in season 10. Ackles joked that he'd tell us anything we wanted to know about season 10 before getting serious to discuss his time behind the scenes as a director in season 10.
"It was a bit of an increased challenge because we were coming off hiatus so it's like the first thing getting back into it and now I'm directing. But I'm also having to introduce essentially a new character which is a demonic version of Dean," explained Ackles. "I find it difficult. I don't know how Ben Affleck or Ben Stiller even going back to Mel Gibson with Braveheart or Kevin Costner with Dances with Wolves, I'd love to ask them how they do it. I find it very difficult to take a director's hat off and put the actor's hat on, and vice versa. And then also trying to introduce a new character at the same time…it was a head spin. Hopefully it worked out. Hopefully you guys like it. We'll see. I actually go into editing on Tuesday to give them my cut."
Asked what's the biggest challenge of living with a character for these 10 seasons, Ackles quickly replied, "It will be having to let him go eventually."
"Absolutely. That's going to be really difficult," added Padalecki. "In my opinion the biggest challenge of living with the character is solved by, frankly by the show is Supernatural. Usually the character becomes stagnant or stale or boring, we do so many crazy wild things…and we're able to because the fans forgive us and stay with us. Supernatural is such a show that you can do anything, you can become a demon, you can become an angel, you can go soulless, and you get to explore all these new different facets."
"It's this crazy, bizarre show you can really go anywhere and we almost have. So, that's the most difficult part of currently living with a character is making sure he doesn't get stale," said Padalecki.
"We also have each other to bounce off of," said Ackles. "It's kind of like the equalizer, you know? I've got Dean and I've got him in my head, and I've got all this stuff – and then as soon as they yell 'Cut!' it's like he and I kind of bring each other right back out of it and we're Jensen and Jared again. There's a nice balance that comes with having somebody that you work with so close, as opposed to someone like Stephen Amell or somebody like Tom Welling who's really flying solo. We tell Stephen all the time, 'Too bad it's just you,' because having a partner in crime is really the way to go.
-By Rebecca Murray
Follow Us On: