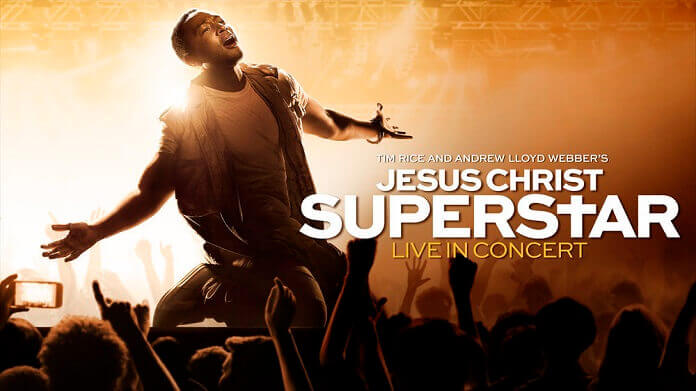 NBC's next live musical event will be a staging of the iconic rock musical, Jesus Christ Superstar. The cast of Jesus Christ Superstar Live in Concert includes John Legend as Jesus Christ, Sara Bareilles as Mary Magdalene, Brandon Victor Dixon as Judas, Alice Cooper as King Herod, Ben Daniels as Pontius Pilate, Norm Lewis as Caiaphas, Jin Ha as Annas, Jason Tam as Peter, and Erik Gronwall as Simon Zealotes.
Executive producers Neil Meron and Marc Platt are no strangers to live television musicals. Meron was involved in The Wiz Live!, Peter Pan Live!, and Hairspray Live!, while Platt executive produced A Christmas Story Live! and Grease Live!. Teamed up for a conference call, Meron and Platt discussed their cast, the staging of this live musical event, and lessons learned from previous television musical productions.
Jesus Christ Superstar Live in Concert will air on Easter Sunday, April 1, 2018.
Neil Meron and Marc Platt Interview:
Can you talk about casting Alice Cooper and why you think he makes the perfect King Herod?
Neil Meron: "Alice Cooper actually has a history with Jesus Christ Superstar. There was an album probably about 10 years ago and he recorded the role of King Herod and so when we were going forward with this production Tim Rice said, 'What about Alice because he's in the family? He's terrific. He would lend that rock authenticity. He has that outrageous persona that seems to be very right for King Herod.' And we reached out and he was very interested, and we were very happy about that."
Marc Platt: "It's going to be a lot of fun. And listen, Jesus Christ Superstar itself is so iconic. Its music is so iconic. It in some ways was very defining for a generation for that kind of narrative music, particularly one that appeared on the West End and subsequently on Broadway. And so to have an iconic rock star like Alice Cooper participate in it feels like it elevates the evening and is both organic but also makes a real exciting, exciting enterprise.
The thing about Superstar is it's for all ages. Of course there's those of us who are older who remember it and its impact on us when we were much younger. But it's also something for those who might not know it to be rediscovered, and so Alice sort of covers all the bases in that regard."
Neil Meron: "Also, you know that Alice Cooper because we're doing it in concert style, the idea that we have an actual rock performer in this venue seems to make a great deal of sense."
Can you discuss your cast and what each member brings to their role?
Marc Platt: "John Legend is not only one of the great sort of pop stars and personalities of our time now, but he has the voice that is distinctive and singular. We all know it and we're all familiar with it. And so to have the role of Jesus sung by that masterful vocalist – , and of course he appeared in La La Land among other things – will be a great joy and will do justice to the challenge of that score and that particular role.
The same thing can be said of course of Sara (Bareilles) who we all know both from her vocal career, her pop star career, her now Broadway career both as a writer and appearing on stage. So to hear her voice sing those gorgeous melodies that we're all so familiar with and have lasted through time is joyous and it's exciting. You really lean into it."
Neil Meron: "And regarding Brandon Victor Dixon, we spent an inordinately long time auditioning many, many actors to play Judas. Brandon came in very, very early and he was always the one to beat. But we did a lot of due diligence because there were a lot of people that want to play that role. Brandon just has this incredible quality not only vocally but he's also a Tony-nominated actor. He's coming off of Hamilton and so it just seemed to make sense for this particular project.
Regarding Ben Daniels, he's one of the finest actors in the English-speaking world, mostly stage and more well-known in the UK than here. But we wanted a really complex actor, somebody that can take on the role of Pilate because it is such a conflicted role. We reached out to Ben and he did a vocal audition for all of us.
All of these people had to be approved by Andrew Lloyd Webber and Tim Rice. When we presented them our choices, we had to make sure that we, as the creative team, really endorsed and knew that we were not going to be turned down because we loved all these actors that we've chosen."
What are the challenges you've been facing with this venue in Brooklyn?
Neil Meron: "Me and Craig Zadan and Marc, we're the only producers that do these live musicals which is kind of a very small club to be in. Marc actually shot a film at this venue that we're shooting at in Brooklyn which is the Marcy Armory. He knew the rawness of the space which is what we were looking for, just in terms of the presentation of Jesus Christ Superstar. We wanted to bring it back. We wanted to strip it of a lot of theatricality and go to the essence of a concert and have some theatrical staging mixed in. Just the rawness of that space and the idea that we can create this environment there just made sense to all of us."
Why did you decide that you wanted to do this performance as a concert rather than a more straight staging of the show?
Neil Meron: "You know, the basis of Jesus Christ Superstar was this live concert album. It was a rock opera. When the album first came out, unauthorized concert stagings of the piece starting popping up all over the US. I think that was Andrew Lloyd Webber and Tim Rice's original inclination was to have it done very, very concert-like. The Broadway production that was done in the early '70s kind of deflected from that and gave it a lot more theatricality, which was very controversial at the time. But Andrew and Tim really wanted to go back to what the essence of the piece was which was presentational-like in front of a live audience and more concert-like."
Marc Platt: "And that is organic to what their intention was and we are delivering a concert. But it does have, as many concerts do actually these days, sort of the bells and whistles of wonderful visuals and enough storytelling. You sit down so you feel the concert, you feel the musicians and the music being played live. But it does have some of the eye-candy pyrotechnic fun and glory that you would expect at a concert and that you would expect also of a story that is Jesus Christ Superstar."
Do you feel after 50 years the play's importance and messages have changed or even strengthened?
Neil Meron: "I actually think it's more relevant now, just in terms of something with the best of intentions to heal, to do good, to spread a message of love, to spread a message of life is snuffed out by opposing forces because he's misunderstood by the powers that be. And I think that is incredibly timely."
Marc Platt: "And I also think that interestingly enough, not just from a nostalgic point of view, but the music still is sensational and still feels relevant and in its own way of the moment which is why I'm excited for folks that don't know it to rediscover. I was just in rehearsal yesterday and listening to John and Brandon sing. Neil turned to me and said, 'Listen to that music. It's just great,' and it really is. It really feels fresh and as iconic as some of it is."
Was it always your intention to end up with a mix of theatre performers and pop/rock stars or did that just happen organically?
Neil Meron: "I think it was a little bit of both. I mean, we wanted the combination because it isn't just singing songs. These songs needed to be acted. So when you examine the piece, you want people that can do both and some of the roles you want a little bit more – like the role of Pilate. Even Judas is incredibly complex in this particular telling of the story. We know that the people that can balance both and still have that incredible vocal ability can come from the theatre. And, we want to populate it with some real authenticity just in terms of a rock sound which is why we have Alice or a pop sound which is why we have John Legend and Sara Bareilles who can do both.
It really is a happy turn of events that led us to this particular cast. But this is the type of cast we were looking for."
Is there any chance that an album might come out of this?
Neil Meron: "There is a chance."
Marc Platt: "We're trying."
Why was British theatre director David Leveaux the right person to handle this production?
Marc Platt: "A number of reasons. There were a number of directors interested but David was very aggressive in pursuing it both because of his personal love of the material and his passion for it. And, he's a noted stage director.
[…] I think that he grew up with a particular love of
Jesus Christ Superstar
as a younger person and now as an artist and a director he has the passion for it. He was just utterly convincing to us that he felt the music, he felt the characters. He loved the concept of the concerts. He'd worked with camera before so that marriage of stage and camera felt organic and he kind of won us over in that regard. Did I leave anything out, Neil?"
Neil Meron: "No, I don't think so. And also what struck us by his work in the past is that it's incredibly visual and we wanted it to be a visual presentation as well."
You have so many of these live television productions underneath your belts at this point. What's the biggest lesson you've learned working on these live events?
Neil Meron: "I think one of the biggest lessons… Well one of the great things about doing them over and over again is that you are not daunted by the challenge, that you kind of know what the mechanics are that needs to take place in order to fulfill a production live. Again, anything can happen which is kind of the exciting thing. You become less fearful of it as we were when we started with Sound of Music. Marc, you may have a different response?"
Marc Platt: "I think you learn a lot about the things you can do, in terms of tricks and embracing what's live about it and how to render that exciting and to deliver what is thrilling for an audience. You know, Neil and Craig really reintroduced to the world the notion of live musicals which many, many, many decades ago had, I guess, been done on TV. They reinvented it with Sound of Music. I think each iteration and each musical there's been more learned in terms of what can and can't be done and how to embrace the fact that it's its own genre, kind of. It's both a stage event, like in the theatre, but there's also a camera – or cameras, I should say."
Neil Meron: "And Marc took it to the next level."
Marc Platt: "Well, I think we all learned and it evolved. I think it continues to evolve. I would say the thing we've learned the most however is that it is live, as Neil said, and anything can happen. I think the first time out is kind of such a daunting and scary thing. And then you sort of realize, 'Well, wait a second, that is sort of the point.'
You embrace the things that might go wrong when it's live and you sort of learn to encourage others to let's just go with it. That's part of why an audience tunes in. Of course they want the music delivered magnificently and they want to see the tremendous visuals and exciting narrative and wonderful performance, but it's live and they want to feel that they are participants in it because so much of our lives today is, you know, there's a little screen that we get everything off of. Here, it's live. I think that's what I learned the most is sort of embrace the liveness and not be fearful of it, but just to lean into it."
Are all the songs from the original stage production going to be in Jesus Christ Superstar Live in Concert?
Neil Meron: "Right now – and we expect it to stay this way – everything is intact from the way that Andrew and Tim wrote it."