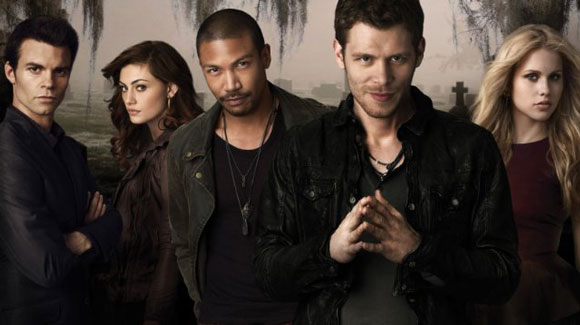 Fans of The CW's
The Vampire Diaries
will be getting a double-dose of vampires this fall as the network introduces the spin-off series,
The Originals
.
Vampire Diaries
viewers are very familiar with Klaus (played by Joseph Morgan), Rebekah (Claire Holt), and Elijah (
Daniel Gillies
) from their time spent in Mystic Falls, however the new series will find the Originals in New Orleans and intermingling with a new batch of colorful characters.
At the 2013 San Diego Comic Con, Joseph Morgan and Claire Holt provided a sneak peek at what audiences can expect from season one of
The Originals
.
Joseph Morgan The Originals Interview:
Will we see a bit of remorse from Klaus over his battle for superiority with Marcel?

Joseph Morgan: "We absolutely will. Even in what I've read so far, and my sort of suspicions about the relationship, he's a little torn because Marcel meant a lot to Klaus back in the day. In fact, you could draw a parallel with the relationship he had with Stefan in Chicago, you know? They were really…well, Stefan was more of a brother and Marcel, in a way, started out as more of a son to Klaus. So, yeah, he's absolutely torn. But he's also I think insulted by the way Marcel thinks he can run things now. He is very needy, Klaus, and needs to be paid the right respect – the respect he feels he is due."

Which would Klaus choose: being King or his child?

Joseph Morgan: "At the moment, currently I think if we take him at the point where he left off where he was at the end of backdoor pilot, I think he's absolutely more concerned with becoming king. He's for whatever will make him the most powerful, so he really is 100% behind that. But I don't know what's going to happen with the child; I've only read the first two episodes of the season so far. I think I would hope that he gets behind the idea a little more because I think there's something so appealing to me about playing this monster that has this tiny little baby that he cares more about than anything in the world. I think that's a really exciting idea for me. But right now he's all about the throne."
Claire Holt Interview:
Where will we find Rebekah next?

Claire Holt: "Rebekah starts off in Mystic Falls; she had a little unfinished business there with Matt. Then you will see her come to terms with the fact that she really does love her family and needs to be there for them and support them. Elijah said in the pilot, 'I'm offering you what you've always wanted, a child.' She's going to get off that high horse she's been sitting on with regards to Klaus and turn up in New Orleans, causing trouble, maybe."

What's the relationship going to be like between Hayley (played by Phoebe Tonkin) and Rebekah?

Claire Holt: "We haven't really started doing that yet, but we don't really know each other so it's an interaction of two new characters. I think she's going to feel a little protective over her, like her mother treated her. Hayley doesn't have any family, so I hope we have a lot of scenes together. I'd really love that."

Do you think there will be cross-overs between The Vampire Diaries and The Originals?

Claire Holt: "Absolutely. I hope there's a cross-over. I think Julie [Plec] has really left the door open for that. There's potential for their characters to come to our show and us to go to theirs, or me, at least. So, I'd love that. I think we should really capitalize on the fan base of The Vampire Diaries and use that to help us if we can, because it's such an amazing show. If we're going to have any sort of success like they have, then we'd be so lucky. Here's hoping."

Have you started filming yet?

Claire Holt: "We haven't. I started on the first episode of The Vampire Diaries last week. We haven't started filming The Originals yet."

So we'll see you in the very first episode of this season's The Vampire Diaries?

Claire Holt: "Yes, you will. I am busy, which is nice, because I also know what it's like not to be busy as an actor. It's nice to have some steady work. I'm very grateful. It's really great."

What's the most enjoyable part of playing Rebekah?

Claire Holt: "Julie has written such a multi-dimensional character for me. The challenge was at the start there's this mean girl that no one wants around and you have to make her likable. You have to make the fans want to watch her. So, it's been really rewarding to watch the journey from sassy, spunky killer to the girl who just wants to be loved. I've really got to experience a lot of things as an actor from flashbacks to stunts, and being on a massive production like this. A lot of things combine in one that makes the show really, really fun. It's a great gig."

Do you like to do flashback episodes?

Claire Holt: "Oh, I love it. I mean, apart from the tight corsets in the sweaty Georgia summer, which is really tough – and the wigs. I love the look of them afterwards. They are so beautiful when they come together. I think they really add to the story and it takes it to a place that not a lot of other shows get to go to. I love it."

Are there any particular type of scenes you're looking forward to with The Originals?

Claire Holt: "Yeah, I'd love to have some scenes with Phoebe. We worked together on our first show in Australia, so she's my friend for a really long time. I'd love to be able to work with her again. That's going to be a real treat. Just really get into the family dynamic more. I love these boys. I think I have such a great chemistry with them. We work so well together and we have a great working relationship. I love to watch them because they're so talented. You learn from that. I'm really excited for everything, I guess. [Laughing] It's going to be a real treat."

Follow Us On: