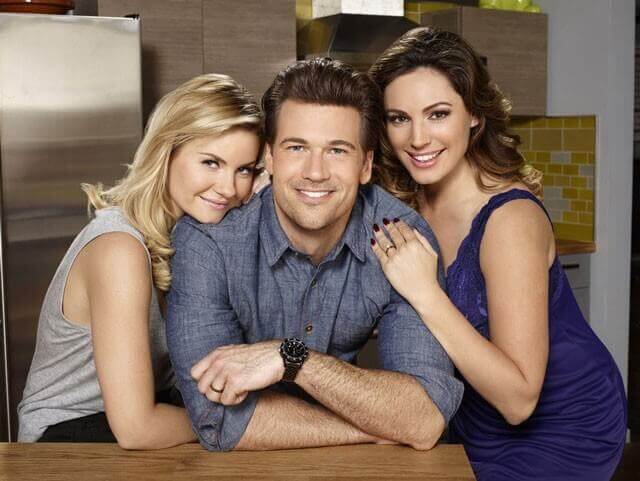 NBC just debuted the new half hour relationship comedy series One Big Happy with Elisha Cuthbert, Nick Zano, and Kelly Brook in starring roles. The series centers around BFFs Luke (Zano) and Lizzy (Cuthbert) who are attempting to get pregnant. The twist: Lizzy's a lesbian and Luke is donating his sperm – and his support – so she can fulfill her dream of having a baby. Their cute little family-to-be is thrown for a loop when Prudence (Brook), a gorgeous British visiting the States, catches Luke's eye. They hit it off and when he learns she's being deported, Luke decides to expand their unconventional family by one more.
At the Television Critics Association's winter tour, Brook sat down with a small group of journalists to chat about the new show, why she's so excited about the series, and about having Ellen DeGeneres on board as an executive producer.
One Big Happy premiered on March 17, 2015 and will air on Tuesdays at 9:30pm ET/PT.
Kelly Brook Interview
How did you get involved?
Kelly Brook: "I was living in the UK when this came around. I got sent the script and I read it, and I have a lovely life in England. I work all the time. I'm very busy so it would take a lot to get me to leave my family and my life and come here. But when I read the script, I don't think I reacted to anything that profoundly for such a long time. It was just a case of I needed to get on a plane and try and get this job."
Do you find American humor to be different than British humor?
Kelly Brook: "Some things are different but I think the writing in the show is really clever and really smart. There are lots of things that are similar as well. I've come to LA quite a lot over the years and I've spent just as much time here as I have in the UK. I feel quite transatlantic in a way. I don't ever feel like I'm not getting anything or I'm not relating to anything that's happening."
Have people told you you're funny before this series?
Kelly Brook: [Laughing] "Yeah, but I don't know if in a good way. I guess, yeah. I've always been like the stooge. I've always been the brunt of the joke in a lot of things. I've worked with a lot of comedians in the UK. I've worked with Keith Lemon; I did a movie with him and a TV show with him. So, yeah, I've always been the stooge, if you like."
Are you comfortable in the character and with the comedy at this point?
Kelly Brook: "I think watching them I can see…I mean, we shot the pilot and then we had this huge break and then we came back and so the first episode back it felt strange to be back on set and find the character again. I feel inevitably the more you do of something, the more we develop our characters, the more the writers get to know our characters, the better the storylines, it just gets better and better. That's why I'm pray we just get to make more because I just think it has such an incredible future."
What's it been like on the set?
Kelly Brook: "I'm a huge fan of Liz Feldman's now, obviously. She's an incredible writer. She did the Oscars last year, and you're only as good as the people you surround yourself with and sometimes in the past things haven't worked out for me in movies or with TV or whatnot. I think being at the forefront of everything all the time, you get all the flack for that. So to finally be around a group of people who I feel have got my back and I'm protected and looked after is great.
I'm being given the best material week in and week out. It's everyone at the top of their game and the stakes are so high in something like this, I just feel like I'm ready for it. It's just been incredible. I actually feel calm…there's no stress or anxiety with something like this. Obviously, making a show is hard work but I never have to worry that I'm not going to get a good script. I never have to worry that my wardrobe is not going to work. I never have to worry that those guys aren't going to remember their lines. Everyone is so professional, they're so respectful of one another, and that's all that you can wish for in any environment. And this is the first time in my life – 20 years of doing this – that I've actually had that experience and it's been incredible. I'm so happy."
Is this kind of an instance where art is imitating life? Your co-stars Elisha Cuthbert and Nick Zano have an existing friendship having worked together before, and you're the outsider coming into this friendship.
Kelly Brook: "I think it was stressful for them to find my character. I think they saw about 400 girls and I literally came in at the 11th hour. It was an assistant who found the script and sent it to me, and when I flew in they hadn't given up … they had a few girls lined up. I remember the girl who came out before me said, 'You have to kiss Nick Zano. You have to kiss him in the audition!' I thought, 'Oh my goodness, well, I'm just going to have to go for it,' because there's not many roles for British girls who look like me or sound like me on American television. I'm not exactly going to get a role on Downton Abbey, let's be honest. [Laughing] So I just went in there and immediately was just open and tried to figure out their dynamic. I just looked at their chemistry; I could see how they worked together. The pace when they would say their lines was different to how I rehearsed so I just adapted it and just fit into their pace, just kind of slid myself in. I just tried to fit in, really, and it somehow just clicked and that was that."
Are you a fan of Ellen DeGeneres?
Kelly Brook: "I'm a huge fan of Ellen."
Have you ever been on Ellen's show?
Kelly Brook: "I haven't, no. Never. [Laughing] Hopefully this time I will be a guest so I can go on and dance."
This is your 'in' now.
Kelly Brook: "Yeah. I think Ellen loves the show and she'll be happy to have us all on as guests at some point, definitely."
– By Fred Topel
Follow Us On: