History's just unveiled a short (30 second) teaser of Mark Hamill (the Star Wars film franchise) in full costume for season two of Knightfall. Hamill joined the cast for the popular drama's second season and is playing a character named Talus. The teaser also shows returning Knightfall star Tom Cullen (Downton Abbey) as Landry.
According to History, Talus is "a battle-hardened Knight Templar veteran of the Crusades who survived captivity for ten years in the Holy Land and is tasked with training the new initiates to the Order. The voice over in this tease reveals Talus' moral conflict with Landry (Cullen) as a Templar. The sword is the symbol that unites and divides the brotherhood this season, and its flames foreshadow what is to come for the Templars on Friday the 13th."
The cast of season two also includes Tom Forbes (The Bastard Executioner) as Prince Louis and Genevieve Gaunt (The Royals) as Isabella.
Richard Rayner and Don Handfield created the series and serve as executive producers with Josh Appelbaum, Andre Nemec, Jeff Pinkner, Scott Rosenberg, Jeremy Renner, Cyrus Voris, Ethan Reiff, Rick Jacobson, Arturo Interian, and Barry Jossen. Aaron Helbing is the season two showrunner and also executive produces.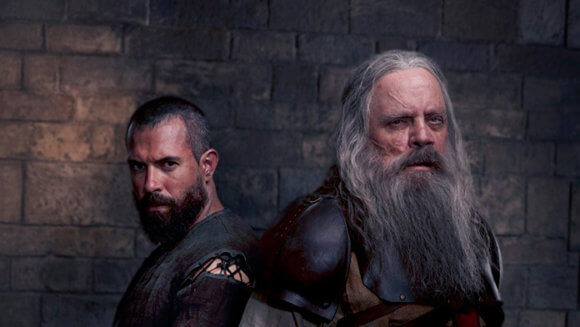 The Knightfall Plot:
Knightfall goes inside the medieval politics and warfare of the Knights Templar, the most powerful, wealthy and mysterious military order of the Middle Ages who were entrusted with protecting Christianity's most precious relics. The story of the Knights Templar has never been fully told until now, and the series goes deep into the clandestine world of this legendary brotherhood of warrior monks to learn who these knights were, how they lived, and what they died believing.
Starring Tom Cullen as the courageous and headstrong Templar Knight, Landry, who last season we left grief-stricken but hopeful, season two will explore this dark time in history from the Templar perspective, embracing an authentically grittier, darker, and more brutal Medieval period than has ever been seen before.