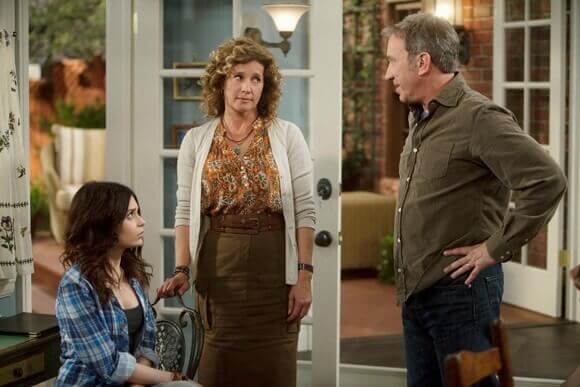 Reviewed by Kevin Finnerty
"Are you going to meddle until the day you die?" "And beyond." That's Mike Baxter (Tim Allen) answering one of his daughter's obnoxious questions in the fall 2011 debut of the TV sitcom, Last Man Standing.

Mike is a manly man who's the marketing director for an outdoor sporting goods store. He loves his job. Being on the road traveling for work, driving his pick up truck, and most importantly not having to get too involved with his three daughters' – 22-year-old single mom Kristin (Alexandra Krosney), 17-year-old Mandy (Molly Ephraim) and 14-year-old Eve (Kaitlyn Dever) – day-to-day life and troubles. This all changes for Mike quickly when he gets word from his boss, Ed (Hector Elizondo), that all business trips are off and that Mike's new main responsibility is to rework the store's website to entice customers to buy online. To make matters worse for Mike, his wife, Vanessa (Nancy Travis), has received a promotion at her work which means she's going to need him to take a more active, hands-on parenting role at home.

Of course Mike does all the wrong things while trying to be a more 'involved' dad, such as taking Kristin's son, his grandson, out of preschool because he's afraid it provides a wimpy environment for him. He also grounds Mandy until she can change a flat tire all on her own and gives what might not be the best advice to Eve on how to handle boys on the soccer field as well as socially.

Last Man Standing is a comedy that has unoriginal and obvious humor. The audience can practically say the funny one-liners written for Tim's character before he does. It's also completely predictable. The trials and problems Mike faces with his three daughters aren't anything the television audience hasn't seen done better somewhere else before.

Tim Allen is a perfect fit for Mike who basically is a slight reworking of his character from Home Improvement. Instead of doing a TV show, he shoots videos for the store's website with his dated, old-fashioned ideas of what's important to a man and how young men today have no idea what it takes to be a real man. Instead of three boys, he has three girls.

Nancy Travis is an uncomfortable fit playing Tim's wife. She has no comedic timing and zero chemistry with any of the other cast members, especially Tim. It also doesn't make sense why she would be surprised by how badly her husband is at trying to manage their daughters' life traumas. They have been married for at least 24 years. Is this reaction supposed to indicate she never really knew her husband?!

One big plus in the show is the casting of Hector Elizondo as Ed, Mike's eccentric and friendly boss. He delivers his lines perfectly, getting the biggest laughs from the studio audience. If only they had been funnier…

Humorous at best, providing just a few chuckles, Last Man Standing is a seen-it before, been-then done-that sitcom that will have viewers remembering how funny and entertaining Home Improvement was and wishing they were watching that instead.

GRADE: C-

Last Man Standing debuted on ABC on October 11, 2011.